Is the Federal Reserve More Likely to Taper After the Jobs Report?
Despite a still sluggish economy, job growth in the United States increased more than expected in June. However, the unemployment rate remained unchanged.
Last month, employers added 195,000 new jobs to their payrolls, according to the latest report from the U.S. Department of Labor. Economists polled by Bloomberg and Reuters only expected employment to increase by 165,000 jobs. Furthermore, payrolls for April and May were revised to show an additional 70,000 jobs.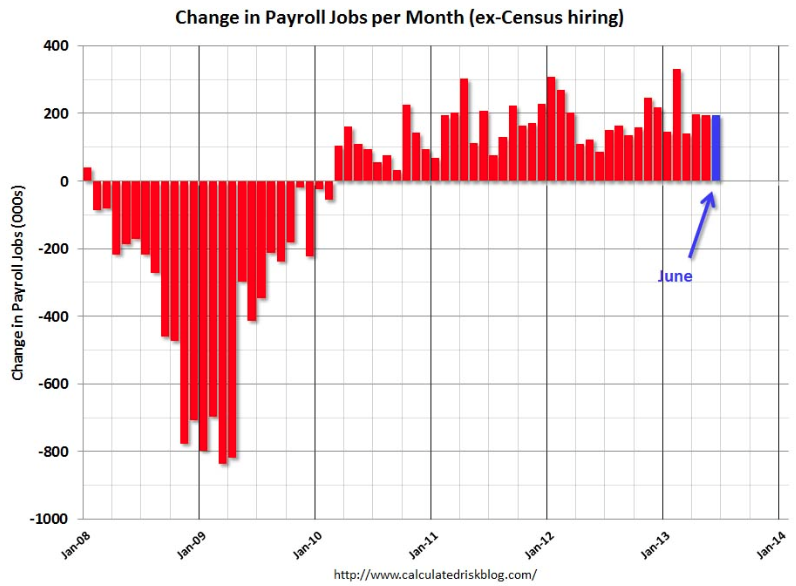 On the downside, the unemployment rate stayed the same at 7.6 percent, slightly higher than expected. The U-6 unemployment rate, which includes everyone in the headline rate, plus people who are either employed part-time but prefer a full-time position, or want work but have stopped looking, jumped from 13.8 percent to 14.3 percent — its highest level in four months.
The quality of jobs is also in question. The food services and drinking industry was responsible for 52,000 jobs in June, while employment in the amusements, gambling, and recreation industry added 19,000 jobs. Job growth in manufacturing and construction showed little change in June.
Many analysts and economists believe the Federal Reserve is likely to taper later this year, as the economy has added an average of 182,000 jobs each month over the past year. Harm Bandholz, chief U.S. economist at UniCredit Group, tells Bloomberg, "The job market is stronger. It's a good number, especially with the upward revisions. Fed tapering is getting closer."
In September, the central bank announced QE3, which buys agency mortgage-backed securities at a pace of $40 billion per month. The program is open-ended and will continue for as long as the Federal Reserve thinks is necessary. Three months later, the central bank announced it would purchase $45 billion of long-term Treasury securities, known as QE4. It also decided to keep interest rates at historic lows as long as the unemployment rate remains above 6.5 percent.
In morning trading, the U.S. dollar index, which compares the greenback in a basket against six other flat currencies, jumped to as high as 84.53 on the belief that Fed tapering is on its way. The yield on the 10-year Treasury hit its highest level in about two years. Stocks across the board climbed higher initially, but are well below the highs for the day. Meanwhile, the price of gold dropped more than $30 an ounce.
Don't Miss: Are Restaurants Signaling Better Days Ahead?
Follow Eric on Twitter (@Mr_Eric_WSCS)