Is the Gun Control Debate Still Boosting Gun Manufacturers?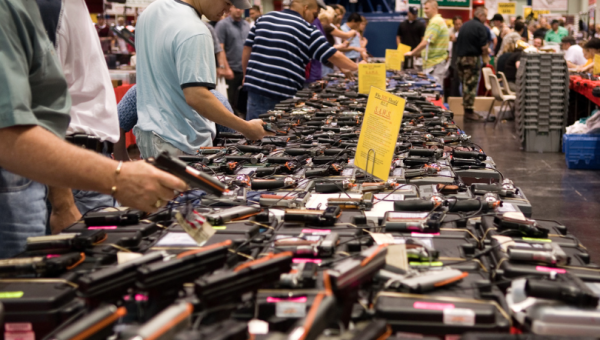 The law of unintended consequences is hitting its mark with politicians and gun owners. Amid a push for tighter gun control laws over the past year, an increase in firearm sales is boosting the nation's leading gun manufacturer.
After Wednesday's closing bell, Sturm, Ruger & Co. (NYSE:RGR) announced better-than-expected financial results for the second quarter. Net income surged 79 percent to $32.3 million ($1.67 per share), compared to $18 million (91 cents per share) a year earlier. Sales in the quarter increased 50 percent to a record-breaking $179.5 million. For the first six months of 2013, sales totaled $335.4 million, compared to $231.9 million in the corresponding period last year.
Analysts on average expected earnings per share of $1.18 on revenue of $154.7 million. Ruger has not missed estimates in at least two years.
The gun industry typically receives a spark when a Democrat holds the White House, but gun and ammo demand has surged to record highs after the tragedy in Newtown sparked more debate about gun control. Wal-Mart (NYSE:WMT), the world's largest retailer, even had to place a limit on ammunition sales earlier this year.
In January, President Barack Obama and Vice President Joe Biden rolled out a wide-ranging list of executive actions regarding gun control. Obama also called on Congress to ban military-style assault weapons, ban capacities of more than 10 rounds, require background checks on all gun sales, and create tougher penalties for those selling guns to people who are not legally allowed to have them.
After months of discussions and finger pointing, Congress did not answer Obama's call. A bill aimed at expanding the system of background checks failed in the Senate, despite co-sponsorship from both political parties. The Senate also blocked a proposal to ban semi-automatic rifles and high-capacity ammunition magazines.
A visibly angry Obama gave a speech shortly after the Senate's decision. He said, "So all in all, this was a pretty shameful day for Washington. But this effort is not over. I want to make it clear to the American people we can still bring about meaningful changes that reduce gun violence, so long as the American people don't give up on it. Even without Congress, my administration will keep doing everything it can to protect more of our communities…but we can do more if Congress gets its act together."
Many people are making purchases ahead of any possible changes. In fact, Obama is considered by many to be the best gun salesman in history. As the chart below from Smith & Wesson (NASDAQ:SWHC) shows, background checks for April, while down from January, were 27.2 percent higher from the same month in 2012. With the exception of 2010, the number background checks have increased on an annual basis for the past five years.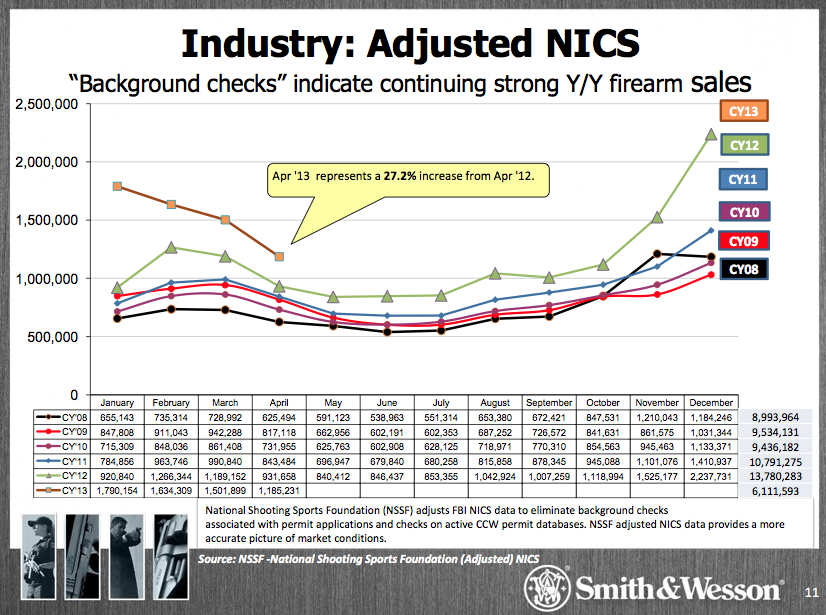 Shares of Ruger jumped more than 5 percent following the quarterly results, and are up about 18 percent year-to-date. Meanwhile, Smith & Wesson's shares gained 1.6 percent to make a new 52-week high above $12. Shares have surged 46 percent this year, easily outpacing the Dow Jones Industrial Average and S&P 500.
Follow Eric on Twitter @Mr_Eric_WSCS