Is the Housing Market Adjusting to Higher Interest Rates?
Despite interest rates edging higher, applications for mortgages managed to break their losing streak.
According to the Mortgage Bankers Association's latest report, for the week ended August 2, loan application gained 0.2 percent on a seasonally adjusted basis from one week earlier. That's only the second increase in 13 weeks and comes after a 3.7 percent decline in the previous week. The figures include both refinancing and home purchase demand, and cover more than 75 percent of all domestic retail residential mortgage applications.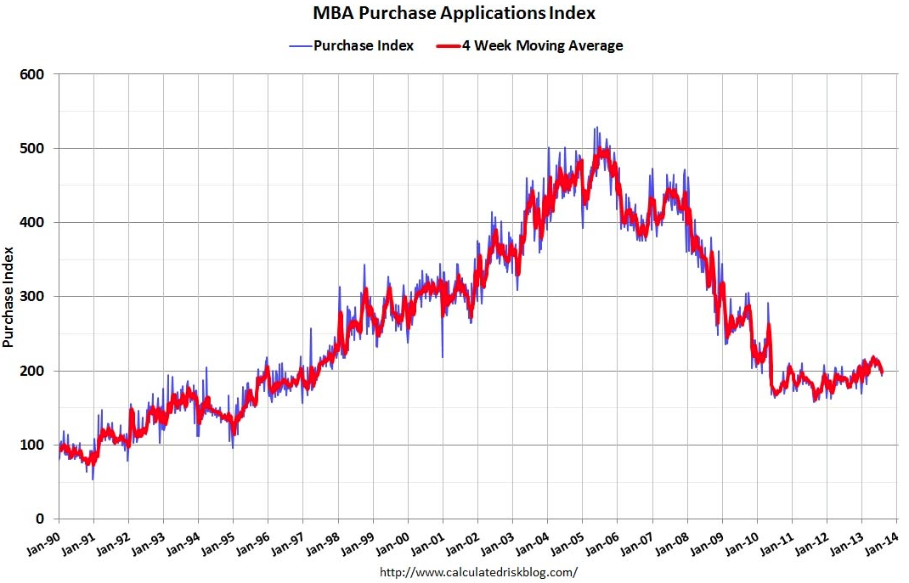 The industry group's refinance index was unchanged, while the unadjusted purchase index increased 1 percent. Overall, the refinance share of mortgage activity accounted for 63 percent of total applications, unchanged from the previous week, and at its lowest level since April 2011.
The average interest rate for a 30-year fixed-rate mortgage edged higher to 4.61 percent, compared to 4.58 percent in the week before. The most recent average rate for a 15-year fixed-rate mortgage came in at 3.66 percent, compared to 3.67 the week before. Between the beginning of May and the end of June, the average interest rate for a 30-year fixed-rate mortgage surged from 3.59 percent to 4.68 percent. However, mortgage rates are still low on a historical basis.
Erin Lantz, director of Zillow Mortgage Marketplace, said in a recent company release: "Mortgage rates initially rose last Thursday after a stronger-than-expected GDP. However, Friday's relatively soft jobs report erased the prior day's gains, leaving rates essentially unchanged for the week. There are few economic reports scheduled this week, so we expect rates to remain fairly stable unless any of the Federal Reserve officials scheduled to share public remarks suggest an acceleration or delay of the Federal Reserve's stimulus program wind down."
In morning trading, shares of Lowe's (NYSE:LOW) and Home Depot (NYSE:HD) both declined about 1 percent. Meanwhile, homebuilders D.R. Horton (NYSE:DHI) and PulteGroup (NYSE:PHM) fell more than 2 percent.
Follow Eric on Twitter @Mr_Eric_WSCS
Don't Miss: A Tale of Two Economies: How the US and EU are Recovering.