Is the Housing Market Gaining Momentum?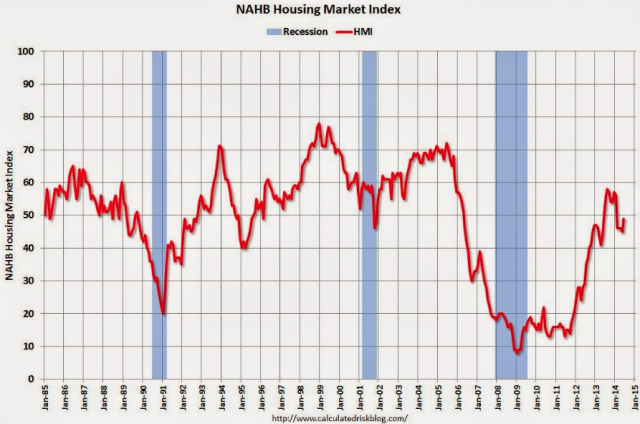 While many consumers and analysts are still cautious about the housing market this year, builder sentiment rebounded to its highest level in six months.
The National Association of HomeBuilders/Wells Fargo's index of builder confidence jumped four points to reach 49 in June, compared to 46 in May, which was the lowest reading in one year. The index has moved very little this year. Prior to this month's reading, builder confidence declined or held steady since last December.
"After several months of little fluctuation, a four-point uptick in builder sentiment is a welcome sign and shows some renewed confidence in the industry," said NAHB Chairman Kevin Kelly, a home builder and developer from Wilmington, Delaware. "However, builders are facing strong headwinds, including the limited availability of labor."
The results were better than expected. On average, economists expected the index to only reach 47 this month. Any reading below 50 indicates that builders in general hold a negative view on sales conditions. In the five years before the Great Recession, the index averaged 54, and hit an all-time low of 8 in early 2009. The index has now been below 50 for five consecutive months.
Although the recession technically ended five years ago, Americans are still trying to recover from the housing bubble and financial meltdown. "Consumers are still hesitant, and are waiting for clear signals of full-fledged economic recovery before making a home purchase," said NAHB chief economist David Crowe. "Builders are reacting accordingly, and are moving cautiously in adding inventory."
The NAHB/Wells Fargo Housing Market Index (HMI) gauges builder perceptions in three areas of the real estate market, which all climbed higher in June. The reading for current sales conditions increased six points to 54, while sales expectations for the next six months increased three points to 59. The component gauging buyer traffic rose three points to 36.
Sentiment has been stable across the country recently. Looking at the three-month moving averages for regional HMI scores, the South and Northeast rose one point to 49 and 34, respectively. The West was unchanged at 47, while the Midwest dipped one point to 46.
More From Wall St. Cheat Sheet:
Follow Eric on Twitter @Mr_Eric_WSCS