Is the Housing Recovery Showing Signs of Life?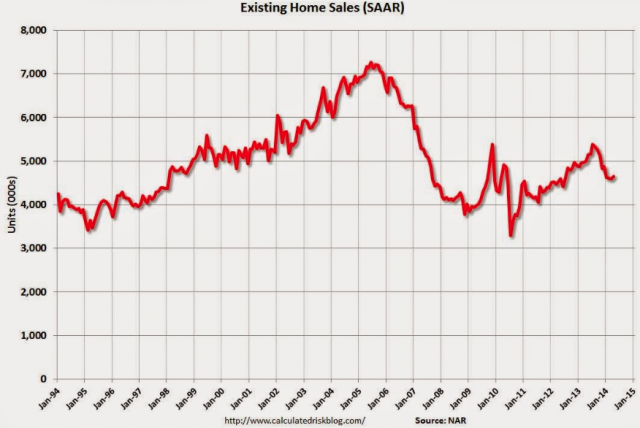 After falling to their worst level in nearly two years, existing-home sales managed to post their first gain of the year last month as inventory levels increased and home prices slowed. However, the results still missed expectations, and doubts remain about the strength of the housing recovery.
The National Association of Realtors announced Wednesday that total existing-home sales — completed transactions of single-family homes, town homes, condos, and co-ops — gained 1.3 percent to a seasonally adjusted annual rate of 4.65 million units in April, compared to 4.59 million units in March. Sales have only increased in two of the past nine months.
The results were slightly worse than expected, which has been a common theme in the housing market this year. Economists expected sales of a 4.68-million unit pace in April. Earlier this year, sales missed estimates for seven consecutive months. Making matters worse, existing-home sales are 6.8 percent below the 4.99 million-unit level seen in April 2013. This is the sixth consecutive month that sales were below year-ago levels.
"Some growth was inevitable after sub-par housing activity in the first quarter, but improved inventory is expanding choices and sales should generally trend upward from this point," said Lawrence Yun, NAR chief economist, in a press release. "Annual home sales, however, due to a sluggish first quarter, will likely be lower than last year."
Housing affordability issues are still being witnessed in the market. First-time buyers accounted for only 29 percent of purchases last month, down from 30 percent in March and unchanged from a year earlier. At 26 percent, January was the worst showing for first-time buyers since the NAR started keeping track of the measurement in October 2008. A normal reading would be closer to 40 percent. The median existing-home price for all housing types in March increased 5.2 percent year-over-year to $201,700. In the first quarter, the median price was 8.6 percent above a year earlier.
"We'll continue to see a balancing act between housing inventory and price growth, which remains stronger than normal simply because there have not been enough sellers in many areas. More inventory and increased new-home construction will help to foster healthy market conditions," explained Yun. "Current price data suggests a trend of slower growth, which bodes well for preserving favorable affordability conditions in much of the country."
The improvement in housing inventory was one of the biggest highlights of the report, if not the biggest. Total housing inventory at the end of April surged 16.8 percent to 2.29 million existing homes available for sale, representing a 5.9-month supply at the current sales pace. That is up from only 5.1 months in March. Unsold inventory is 6.5 percent higher than a year ago, when there was a 5.2-month supply.
Existing-home sales were mixed across the four major regions of the nation. The Northeast was unchanged at an annual rate of 600,000 in April. Sales in the Midwest declined 1 percent and are 9.6 percent below a year earlier. Meanwhile, sales in the South increased 1 percent. The West logged the biggest gain at 4.9 percent.
Last year, existing-home sales reached 5.09 million sales, which is 9.1 percent higher than 2012. It was also the best year since 2006, when sales hit 6.48 million units with the help of the housing bubble. However, momentum has been slowing as the housing market returns to a more sustainable pace.
More From Wall St. Cheat Sheet:
Follow Eric on Twitter @Mr_Eric_WSCS