Is the Housing Recovery Still Pushing Forward?
With the help of low mortgage rates and inventory levels, the real estate market continues to relentlessly charge higher. In May, home prices increased on a year-over-year basis for the fifteenth consecutive month.
CoreLogic, a leading property information and analytics provider, reported its home price index gained 2.6 percent in May from the previous month. Compared to a year earlier, home prices across the nation surged 12.2 percent, the biggest increase since February 2006. All but two states, Delaware and Alabama, posted annual price gains.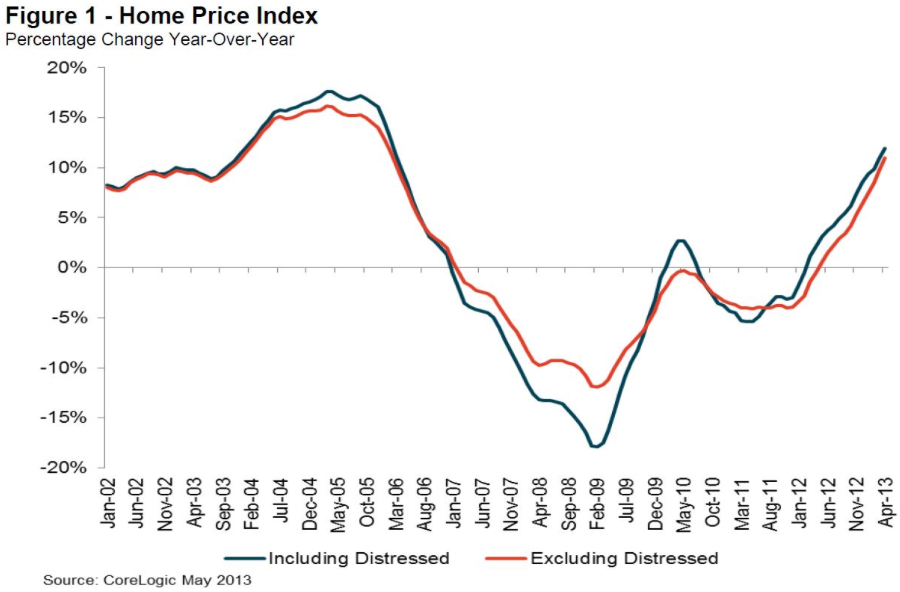 "It's been more than seven years since the housing market last experienced the increases that we saw in May, with indications that the summer months will continue to see significant gains," said Dr. Mark Fleming, chief economist for CoreLogic. "As we approach the half-way point of 2013, home prices continue to respond positively to the reductions in home inventory thus far."
Excluding distressed sales, home prices gained 11.6 percent on a year-over-year basis in May. On a monthly basis, home prices excluding distressed sales increased 2.3 percent from April. The five states with the highest home price appreciation were: Nevada (23.0 percent), California (18.5 percent), Arizona (14.7 percent), Idaho (13.2 percent), and Oregon (13.2 percent).
"Home price appreciation, particularly in much of the western half of the U.S., is increasing at a torrid pace," said Anand Nallathambi, president and CEO of CoreLogic. "Across the country, pent-up demand and continued low interest rates are fueling strong demand for a limited inventory of properties. We expect that trend to continue to drive up prices throughout the balance of the summer months."
Nationally, home prices are still 21 percent below their peak from the bubble days, but CoreLogic expects June home prices to increase 13.2 percent year-over-year. Excluding distressed sales, home prices are set to rise 2.0 percent from May to June.
Other price indicators are also showing record-breaking gains. According to the latest S&P/Case-Shiller index, home prices in 20 major cities for April jumped 12.1 percent year-over-year, the biggest gain in more than seven years. Meanwhile, the month-over-month gain in the 20-city index of 2.5 percent was the biggest increase in the history of the index.
Last week, the Federal Housing Finance Agency report said home prices increased 7.4 percent for the 12 months ending in April. The FHFA index is now back to January 2005 levels, and has increased for fifteen consecutive months. The advance was led by a 17.1 percent surge in the Pacific region year-over-year, which includes Hawaii, Alaska, Washington, Oregon, and California.
In morning trading, home-improvement stocks such as Lowe's Companies (NYSE:LOW) and Home Depot (NYSE:HD) jumped 4.2 percent and 1.2 percent, respectively. However, home builders such as Lennar (NYSE:LEN) and DR Horton (NYSE:DHI) traded slightly in the red. PulteGroup (NYSE:PHM) edged 0.25 percent higher.
Don't Miss: Are Restaurants Signaling Better Days Ahead?
Follow Eric on Twitter (@Mr_Eric_WSCS)