Is the Housing Recovery Theme Getting Demolished?
For the third consecutive month, housing starts in the U.S. came in weaker than expected this past week, providing a clear warning that the housing recovery is still on shaky ground.
Builders broke ground on houses at a seasonally adjusted annual rate of 836,000 units in June, representing a 9.9 percent decline from the upwardly revised May estimate of 928,000 units, according to the U.S. Department of Commerce. It was the lowest rate since August 2012, and the second largest sequential drop since 2011.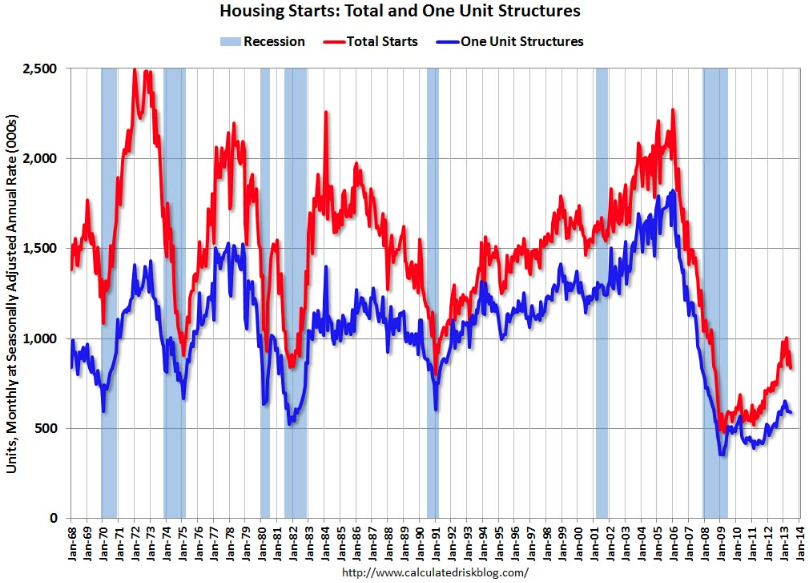 The annual pace of housing starts in June was expected to be 959,000 units, according to economists surveyed by Reuters. The median estimate of 83 economists surveyed by Bloomberg called for 960,000 units. Although the results missed expectations, housing starts were still 10.4 percent higher than a year earlier.
Single-family housing starts in June, the largest segment of the market, declined 0.8 percent to an annualized rate of 591,000 units. Single-family starts have now posted declines in three of the last four months. The move coincides with rising interest rates. Meanwhile, breaking ground on multi-family homes with at least five units plunged 26.7 percent to 236,000 units.
Adding to the weakness, new building permits — an indication of future construction — dropped 7.5 percent to an annualized rate of 911,000 units in June, due to a 23 percent decline in applications for multi-family dwellings. In comparison, new building permits reached 785,000 units a year earlier.
Overall, construction began on 780,000 units in 2012, a significant increase from 608,800 units in the prior year, but still below the historic average of 1.5 million new homes per year since 1959. Housing starts reached 2.07 million units in 2005. The pace of home construction reached its low point in 2009, below 500,000 units.
This past week, shares of home builders like Lennar (NYSE:LEN) and PulteGroup (NYSE:PHM) were shaky. KB Home (NYSE:KBH) shares popped on Wednesday 4 percent, but then tapered off to close out the week. Home-improvement names like Lowe's (NYSE:LOW) finished about 1 percent higher over the week.

Don't Miss: Higher Interest Rates Weigh on the Housing Market
Follow Eric on Twitter @Mr_Eric_WSCS