Is The Labor Market as Healthy as Americans Think?
Employers are expanding the size of their workforces at the highest rate since the recession began, according to Gallup's Job Creation Index. The index, which is based on a survey of employees, hit 22 in May, the highest for any month since April 2008. The score is based on 37 percent of workers responding that their employer is hiring, and 15 percent saying that their company is letting people go.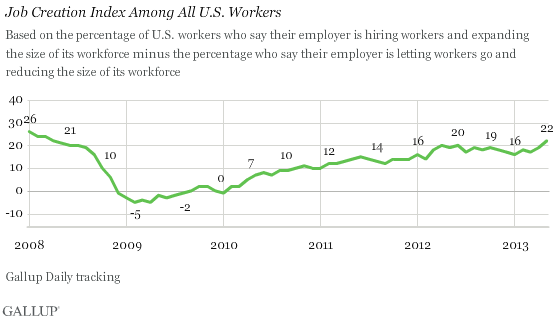 The report suggests a high level of optimism among U.S. workers, even though reports continue to support a mixed diagnosis of the labor market. A separate Gallup report published at the end of May showed that more U.S. small businesses were letting employees go than hiring over the past 12 months.
The Gallup data echos mixed results from the most recent employment situation report, which was released last Friday. The report showed that employers added a better-than-expected 175,000 jobs in May, but the unemployment rate edged up to 7.6 percent. The rate increase was in part due to an increase in the labor force, which includes both people working and those seeking employment.
Some ostensibly good news came from the Federal Reserve Bank of Chicago last week. The bank's economists said that payroll gains of 80,000 per month will be adequate to keep the United States jobless rate steady over the next couple of years as population growth slows and aging baby boomers retire. "These estimates are lower than the conventional wisdom that 100,000 to 150,000 jobs per month are needed to lower the unemployment rate," Daniel Aaronson, director of microeconomic research at the Chicago Fed, and Scott Brave, a senior economist, wrote in a report.
However, the Chicago Fed researchers also project payroll employment growth to slow substantially in the coming years.
"We project trend employment growth to slow to about 80,000 per month over the next two years and then drop to roughly 35,000 jobs per month, on average, from 2016 to 2020. The projected slowdown is based on 1) a continuing decline in trend labor force participation attributable to the aging of the baby boomer generation and 2) a lower level of projected population growth going forward," they wrote.
Here's how the 3 major indices have traded over the past week:

Don't Miss: Consumers and Investors Love These 5 Companies.
You can follow Dan on Twitter (@WscsDan)