Is the Labor Market Strengthening Despite Economic Contraction?
The health of the labor market is perhaps the most-watched facet of any economy. Employment data can lead to a thousand economic insights, allowing investors to make more informed decisions about market conditions. When job growth is slow or negative, interest rates are likely to decline — as we have seen over the past few years — boosting stock and bond prices as a result. When job growth is high, then the threat of wage inflation rears its head, interest rates may rise, and bond and stock prices would react by falling.
Compounding the importance of employment data is the Federal Reserve's decision to link its monetary policy action to the U-3 unemployment rate, currently sitting at 7.8 percent. The Fed, which brought the funds rate down to nearly zero in 2009, has said that it will continue buying $85 billion worth of assets every month until labor market conditions improve, meaning unemployment hits about 6.5 percent.
On Friday, the Bureau of Labor Statistics will release the Employment Situation report for January, which is what could change the official unemployment rate if the numbers are strong enough. Meanwhile, market participants will digest the ADP National Employment Report, which was released on Wednesday and provides a snapshot of the employment situation based on transactional payroll data…
The ADP National Employment Report for January showed that 192,000 non-farm private-sector jobs were added for the month. This is a 3.7 percent gain from December, a 12.3 percent drop from January 2012, and the sixth consecutive month of increasing job growth.
The results came in ahead of consensus estimates for about 172,000 jobs, which, if accurate, would have represented a month-to-month decline in the rate of job creation. But the labor market continued to strengthen, with small businesses, defined as those with 49 or fewer employees, adding 59 percent of jobs for the month. Medium businesses, defined as those with between 50 and 499 employees, added 41 percent of jobs. Large businesses lost 2,000 jobs.
January's numbers pull the six-month average up to 153,000, and the three-month average up to 183,000, suggesting positive momentum in the labor market. These results will be tempered with Thursday's weekly initial unemployment claims figures, and together with Friday's major employment situation report will paint a robust picture of how well the labor market is doing. Whatever the employment situation looks like at the end of the week will be paired with the government's preliminary fourth-quarter GDP estimates, which show contraction of 0.1 percent.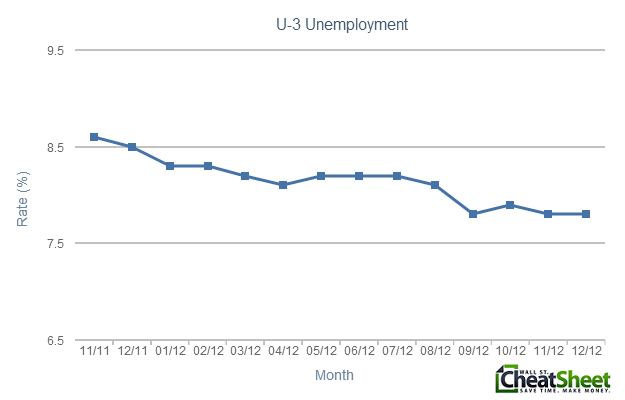 Don't Miss: Is This Drop In GDP As Bleak As It Looks?