Is the Manufactured Political Crisis Already Weighing on Small Businesses?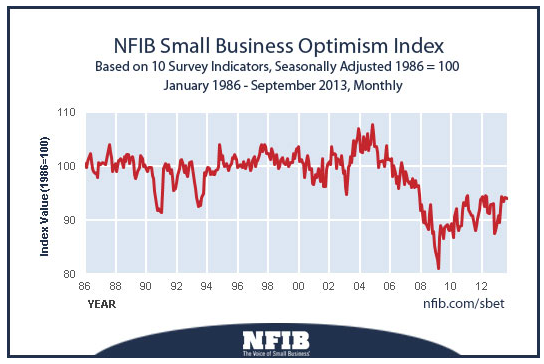 In the face of a sluggish economy and a government that can't agree on anything, small business owners remain skeptical about the future. The National Federation of Independent Business, the leading nonprofit small business association representing small and independent businesses, reported that its Small Business Optimism Index edged 0.2 percent lower in September to 93.9, compared to 94.1 the previous month. The September reading is about 13 points higher than the lowest point seen during the recession but six points below the pre-2008 average.
In December, the index sank to 88.0 — the second-worst reading since March 2010. In the 48 months of economic expansion since the beginning of the recovery in July 2009, the index has averaged slightly above 90.0. While the government shutdown drags on into its second week, small business owners are losing hope in elected officials.
"The change in this month's Index was little more than 'statistical noise,' but the drop in outlook for future economic conditions is evidence that many owners are keeping an eye on Washington," said NFIB chief economist Bill Dunkelberg.
"Prospects for politicians and policymakers 'getting it right' are low, and job creators are rolling their eyes and shaking their heads thinking, 'This is certainly not the way to run the largest enterprise in the world.' Between botched healthcare implementation and one manufactured crisis after another, consumers and small business owners are likely to remain pessimistic."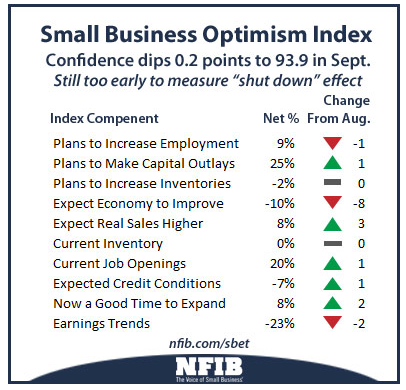 Of the 10 index components, three declined and two were unchanged. On the positive, five of the components managed to climb higher. Those expecting higher real sales increased 3 percent in September, but small businesses expecting the economy to improve plunged 8 percent. Fifty-one percent of the owners hired or tried to hire in the last three months, and 41 percent reported few or no qualified applicants for open positions.
Sales remained in negative territory for small businesses. The net percent of all owners reporting higher nominal sales over the past three months stayed the same at negative 6 percent percent. In fact, 18 percent of small employers cite weak sales as their top business problem. Taxes and government red tape were the top two problems at 21 percent and 22 percent, respectively.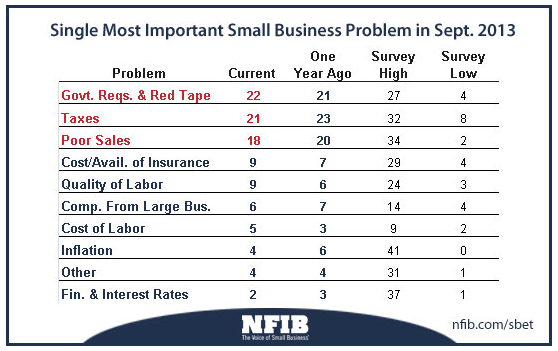 Dunkelberg added, "Consumers and small business owners are pessimistic, not expecting a 'crash' in the economy, just accepting the notion that growth is going to be sub-par and that their government is likely to continue in dysfunctional mode. The misstatements and exaggerations and distortions being sold to the public are stunning, but after all, these are politicians. A desperation deal will likely evolve, and it will be poorly constructed and conceived as usual. This is a 'game of thrones' indeed, and no one is really concerned about the peasants, the politicians just want to make their points."
Don't Miss: Your Cheat Sheet to the Debt Ceiling Debacle
Follow Eric on Twitter @Mr_Eric_WSCS