Is the Mortgage Market Finally Turning the Corner?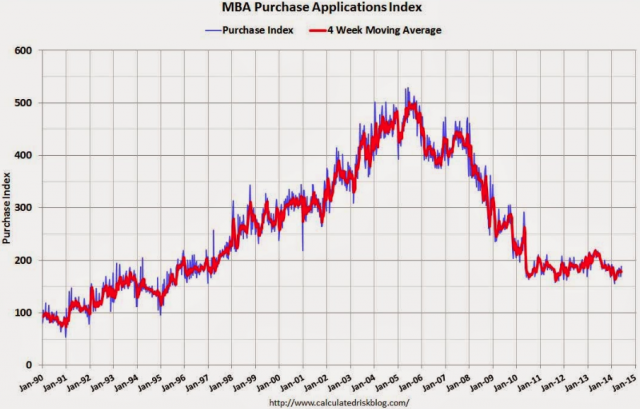 The mortgage market remains volatile and continues to struggle with finding a clear direction this year. However, the latest results are encouraging. According to the Mortgage Bankers Association, for the week ended June 6, applications for home loans jumped 10.3 percent on a seasonally adjusted basis from one week earlier. On an unadjusted basis, the index surged 22 percent, a sharp rebound from the 14 percent plunge seen a week earlier.
The Refinance Index, which posted a 3 percent decline in the previous week, gained 11 percent in the latest report. The seasonally adjusted Purchase Index also increased 9 percent. The unadjusted Purchase Index increased 19 percent but was still 13 percent below the same week a year earlier. As the chart above shows, applications have struggled to gain momentum for a sustained period since the housing bubble collapsed.
Overall, the refinance share of mortgage activity accounted for 54 percent of total applications, up 1 percentage point from a week earlier. It has been a rare occurrence to see the refinance share of mortgage activity gain ground. Refinancing has dropped for 12 of the past 18 weeks. The latest uptick occurred even as interest rates increased.
Higher interest rates were unable to prevent the strong gains in the mortgage market last week. The average rate for a 30-year fixed-rate mortgage increased from 4.26 percent to 4.34 percent. Meanwhile, the average rate for a 15-year fixed-rate mortgage climbed to 3.43 percent from 3.39 percent.
Even though home prices have rebounded in recent years, 70 percent of Americans think we are still in the middle of a housing crisis, according to a recent survey from the MacArthur Foundation. More than half of Americans say buying a home has become less appealing, and 43 percent indicate it's no longer an "excellent" long-term investment or one of the "best" ways to build wealth.
More From Wall St. Cheat Sheet:
Follow Eric on Twitter @Mr_Eric_WSCS