Is the Next Housing Bubble Already Here?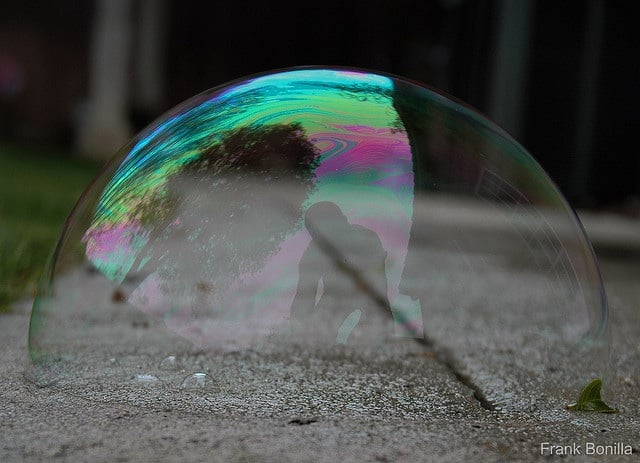 A financial bubble typically takes a very long time to re-inflate, but the strong rise in home prices is elevating concerns that another bubble is already forming in the real estate market.
Due to the nationwide rebound in home prices, several cities are approaching their bubble peaks of yesteryear. According to the latest sustainable home price update from Fitch Ratings, national home prices are approximately 17 percent overvalued. All of the top 50 most populous cities in the United States experienced home price growth in the past year for the first time since 2005, and the first time since 2000 when adjusted for inflation.
The highest growth rates were found in the western region, with many overvalued cities being located in California. Year-over-year growth rates in the San Francisco Bay area are at their best level in a decade. "Home prices in San Francisco have gone up over 20 percent year-over-year, the highest rate of increase than at any point in the last 10 years," said Fitch Research Director Stefan Hilts. "In fact, San Francisco and San Jose will set new home price records in the next six months."
Bubbles do not usually make a significant comeback in such a short amount of time. For example, gold made a peak in 1980 then crashed and remained dormant until 2001. The tech bubble still has the Nasdaq trying to recover its highs reached more than a decade ago. Most recently, home prices peaked in 2006 and started their infamous plunge. However, many measures have been implemented by the Federal Reserve to re-inflate home prices.
Surrounded by historically low interest rates and inventory levels, home prices increased on a year-over-year basis for the 19th consecutive month in September. According to CoreLogic, a property information and analytics provider, home prices jumped 12 percent in September from a year earlier. In fact, home prices have posted double-digit gains for eight straight months.
While home prices are bringing back memories of the housing bubble, the pace is expected to slow as affordability issues weigh on the real estate market. In the second quarter, the National Association of Home Builders found that 69.3 percent of new and existing homes sold were affordable to families earning the U.S. median income of $64,400. That was down from 73.7 percent in the first quarter and the first reading below 70 percent since late 2008.
In a recent survey from Redfin, home sellers are showing more disappointment in buyer interest. The percentage of survey respondents who think it is a "good" time to sell their home plunged to 34 percent in October, compared to 48 percent in the third quarter. Meanwhile, 39 percent of respondents are worried about "general economic conditions" when selling their homes.
"The market is softening. Instead of homes getting 10 offers within the first week, they might get one or two," said Redfin Riverside, California, Market Manager Paul Reid. "Moreover, buyers are more emboldened. Some are making offers below list price and contingent on the sale of their home … and winning."
Don't Miss: Top 10 States Where Home Prices Are Surging
Follow Eric on Twitter @Mr_Eric_WSCS