Is the Real Estate Market Still Posting Record-Breaking Price Gains?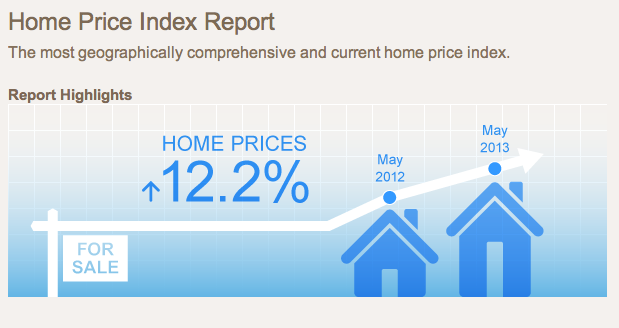 With the help of historically low mortgage rates and inventory levels, the real estate market continues to post impressive price gains.
In June, home prices across the nation increased on a year-over-year basis for the sixteenth consecutive month. According to CoreLogic, a leading property information and analytics provider, home prices jumped 11.9 percent in June from a year earlier. Compared to May, CoreLogic's home price index gained 1.9 percent last month, and predicts that home price will log another double-digit increase in July.
On an annual basis, home prices only fell in Delaware and Mississippi. Dr. Mark Fleming, chief economist for CoreLogic, notes the strong performance this year. He explains, "In the first six months of 2013, the U.S. housing market appreciated a remarkable 10 percent. This trend in home price gains is at the best pace since 1977."
Excluding distressed sales, home prices gained 11 percent on a year-over-year basis in June. On a monthly basis, home prices excluding distressed sales increased 1.8 percent from May. The five states with the highest home price appreciation were: Nevada (26.5 percent), California (21.4 percent), Wyoming (16.7 percent), Arizona (16.2 percent), and Georgia (14.3 percent).
Nationally, home prices are still 19 percent below their peak from the bubble days, but CoreLogic expects July home prices to increase 12.5 percent year-over-year.
Some analysts have voiced concerns about rising mortgage rates, but affordability remains in reach. Anand Nallathambi, president and CEO of CoreLogic, explains, "Despite their rebound of late, home prices remain reasonable in a historical context, with most states near peak affordability levels."
In morning trading, shares of Home Depot (NYSE:HD) and Lowe's (NYSE:LOW) both fell nearly 1 percent. Shares of homebuilders, such as PulteGroup (NYSE:PHM) and Lennar (NYSE:LEN), dropped 2.9 percent and 1.4 percent, respectively.
Don't Miss: Is the Debt Ceiling Worse Than Sharknado?
Follow Eric on Twitter @Mr_Eric_WSCS