Is the Recovery Finally Reaching Main Street?
Data released by the U.S. Bureau of Economic Analysis on Friday morning show that consumers weathered economic headwinds fairly well in August. The BEA's Personal Income and Outlays report showed that fueled by increased income and spending, the consumer sector could actually be a positive contributor to third-quarter gross domestic product, adding some much-needed momentum to the beleaguered recovery.
Personal income — the total compensation that someone receives — increased 0.4 percent on the month, consistent with economist expectations. Increases in personal income are pretty much prerequisite to increases in consumer spending, which drives as much as two-thirds of total economic activity in the U.S. Disposable personal income — which measures how much money people have left after paying income taxes — increased 0.5 percent. Real disposable personal income — which factors in inflation — increased 0.3 percent.
The increase in personal income in August was the largest gain since February and suggests that Main Street may finally be feeling some love after a long and generally anemic economic recovery process.
Income gains precede spending gains, and the BEA's report shows that consumer spending increased 0.3 percent on the month and 3.7 percent on the year in August. The personal consumption expenditures price index — which is the U.S. Federal Reserve's preferred measure of inflation — increased 0.1 percent on the month and 1.2 percent on the year. Relatively slow increases in prices paid by consumers for goods is unsurprising given weak inflation signals from the consumer price index and the producer price index.
This relatively positive data could help turn the tide on declining economic confidence, which has tanked in recent weeks as policymakers once again engage in political trench warfare over the nation's budget and fiscal policy. Gallup's Economic Confidence Index fell five points last week to -20, its lowest level since the sequestration. The U.S. Senate is scheduled to vote on Friday on the budget forwarded by the Republican-led House of Representatives, but Democrats in the Senate are expected to strip the measure that defunds Obamacare.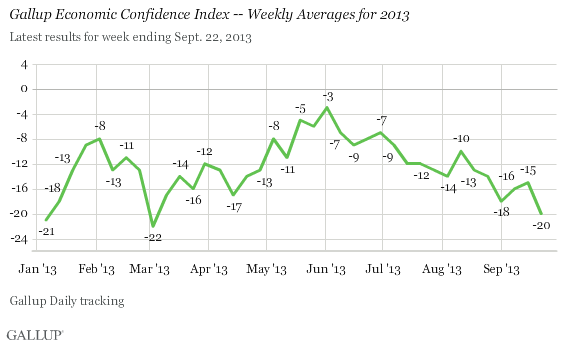 Don't Miss: Government Watchdog: IRS Already Making Obamacare Errors