Is the Restaurant Industry Going Stale?
It is no secret that America loves to eat. The nation is the most gluttonous country in the world, with more than a third of its citizens being classified as obese. While this trend does not appear to be going on a diet anytime soon, recent studies suggest that restaurants will need to be mindful of slimmer wallets.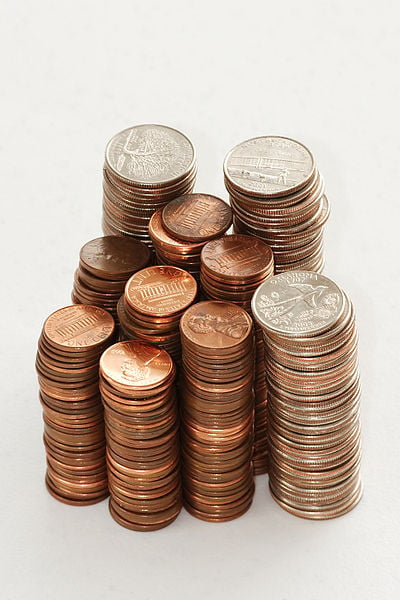 From celebrating a special occasion to simply taking a break from cooking at home, people enjoy eating out. However, eating habits have yet to fully recover from the greatest financial crisis since the Great Depression. According to the NPD Group, a leading global information company, restaurant traffic at over 61 billion visits in 2012 is still below pre-recession levels, as almost three of every four Americans consider themselves "cautious and controlled" in their spending habits.
Many consumers have less confidence in their government and employers. Furthermore, the recently imposed payroll tax increase, which affects the majority of Americans bringing home a paycheck, is hitting wallets and waistlines…
According to the report, 65 percent of those polled said they watch how they spend money on most or all purchases, while 42 percent feel the economy will get worse. This has caused 38 percent to watch what they spend when eating out. Interestingly, thirty-five percent believe the American Dream is no longer alive and well.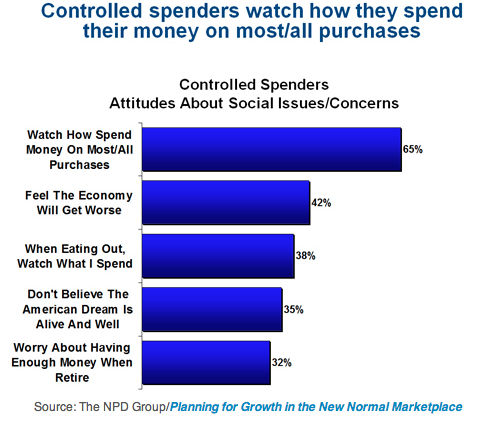 "The current new normal marketplace requires operators and their suppliers to develop or realign their marketing strategies to address the needs of today's consumer, like incentives that keep customers happy and deliver perceptions of value," says Bonnie Riggs, NPD's restaurant industry analyst.  "It's also important to keep in mind that there are other marketplace growth opportunities to leverage, and there will always be winners, even in a soft market."
Building value and customer loyalty is more important than ever before, as even the biggest names in the food industry experience softness. McDonald's (NYSE:MCD), the world's largest fast-food chain, recently announced same-stores sales declined 1.9 percent in January, amid weak consumer spending. Analysts were only expect a 1.1 percent drop in sales. Yum! Brands (NYSE:YUM), the owner of KFC, Taco Bell, and Pizza, announced earlier this month fourth quarter earnings fell 5.3 percent. The company is not only dealing with more value-orientated consumers, but also a chicken-safety crisis in China.
The winners and losers…
Over the past five years, there have been some clear winners and losers in the restaurant industry.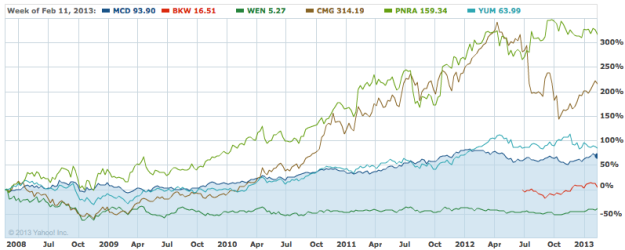 As the chart above shows, shares of Panera Bread (NASDAQ:PNRA) have surged more than 300 percent. Even though Chipotle Mexican Grill (NYSE:CMG) came under heavy selling pressure with David Einhorn shorting the name last year, shares are still up about 200 percent. Shares of McDonald's and Yum Brands are relatively even with each other in positive territory over the past five years, but Wendy's (NYSE:WEN) is in the red, as the world's third-largest burger chain is in the process of a business transformation.
Looking forward, the frugality among diners is expected to continue this year. According to consulting firm Alix Partners, restaurant traffic is forecast to rise 3 percent in 2013, but average spending per meal should fall about 4.7 percent to $12.85.
Don't Miss: How Cash-Strapped are Americans?