Is the Student Debt Bubble Getting Worse?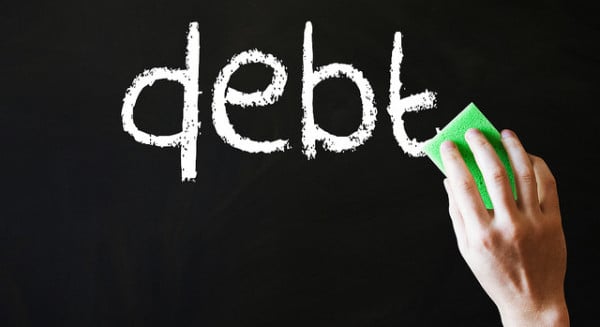 After years of skyrocketing prices on everything from textbooks to tuition, the student debt load being carried around in the United States has graduated to a new level.
In the third-quarter, total outstanding student debt increased $33 billion from the previous quarter to $1.03 trillion, according to the latest Household Debt and Credit Report from the Federal Reserve Bank of New York. While other organizations have already measured college debt to be above the trillion-dollar mark, this is the first time in history the Federal Reserve has done so.
"This quarter, we observed an increase of household balances across essentially all types of debt," said Donghoon Lee, senior research economist at the New York Fed. "With non-housing debt consistently increasing and the factors pushing down mortgage balances waning, it appears that households have crossed a turning point in the deleveraging cycle."
The total amount of outstanding household debt jumped $127 billion to $11.3 trillion, the largest increase since the first quarter of 2008. At nearly $8 trillion, mortgage debt is the only debt greater than student loans. Overall consumer debt remains just 11 percent below the peak of $12.68 trillion in the third quarter of 2008.
In addition to student loans officially crossing the $1 trillion level, the New York Fed reports that the number of borrowers who have fallen behind on their student debt by at least 90 days increased nearly 1 percentage point to 11.8 percent in the third quarter, compared to 10.9 percent in the second quarter. The delinquency rates on auto loans and mortgages stood at only 3.4 percent and 4.3 percent, respectively.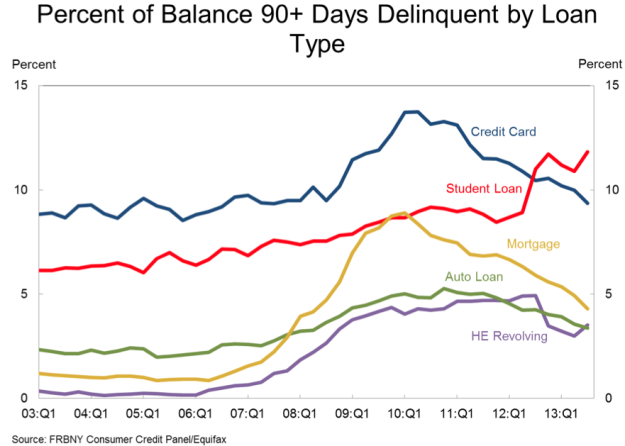 Interestingly, the delinquency rates of student loans are likely even higher than reported. In the fine print of a previous report, the Fed explains that, "These delinquency rates for student loans are likely to understate actual delinquency rates because almost half of these loans are currently in deferment, in grace periods, or in forbearance and therefore temporarily not in the repayment cycle. This implies that among loans in the repayment cycle, delinquency rates are roughly twice as high."
A separate report released in September showed that around one in seven borrowers defaulted on their federal student loans. According to the U.S. Department of Education, the national two-year cohort default rate increased from 9.1 percent to 10 percent in fiscal year 2011 compared to the previous year. Making matters worse, the three-year default rate jumped from 13.4 percent to 14.7 percent. Those are the highest default rates in about 15 years, and they don't even include people who are delaying payments through forbearance or deferment.
Obtaining a college degree was once considered to be a guaranteed path to the American Dream. However, rising debt loads have many graduates living a financial nightmare, and the side effects are impacting other areas of the economy. Due to monthly loan payments, about 47 percent of student borrowers have delayed buying a house, according to a recent survey by Young Invincibles, an organization that represents the interests of young adults. The same percentage of borrowers also put off buying a car, while 35 percent said they postponed starting a family.
Twenty-three percent of respondents stated that they put off starting a business, and 15 percent said they tried to receive a mortgage but were denied. Even more concerning, 76 percent said they saved less for the future, which will undoubtedly cause additional problems down the road.
Don't Miss: Are You Confident About Retirement?
Follow Eric on Twitter @Mr_Eric_WSCS