Is The U.S. Economy Finally Creating Jobs?
Between the Labor Department's Employment Situation Report — which showed that the U.S. economy created a disappointing 88,000 jobs in March — and the number of Americans applying for jobless benefits picking up pace throughout the month, a dark cloud has been hanging over the labor market. But — amid the current run of soft economic data — the Labor Department reported Thursday that last week initial claims for unemployment benefits fell to a five-year low, a possible indication that employers are experiencing higher demand and may increase hiring.
Initial jobless claims — which can be used as a proxy measurement of layoffs — decreased by 16,000 to a seasonally adjusted 339,000 in the week ended April 20. These figures are the lowest recorded since early March and the second-lowest since January 2008. Comparatively, economists polled by Dow Jones Newswires had expected 350,000 new application for jobless benefits last week.
While data on jobless claims has ridden a roller coaster-like wave so far this year, the more reliable measure of employment also indicated that the labor market is improving. The four-week moving average, used to smooth out weekly volatility, dropped by 4,500 to 357,50
March featured sluggish job growth, with unemployment elevated at 7.6 percent and employers adding only 88,000 jobs to their payrolls, lending credence to the idea that the labor market recovery was losing steam. However, Thursday's report provided a sign that the labor market is actually making steady, albeit slow, progress. Further evidence of that fact was seen in the number of continuing unemployment benefit claims; the number of workers receiving benefits for more than a week dropped by 93,000 to three million in the week ended April 13.
The the number of workers applying for unemployment insurance was equivalent to 2.3 percent of employed workers that pay into the system in the week ended April 13, reported The Wall Street Journal. That level represented a 0.1 percentage point decrease from the prior week and the lowest level since mid-2008.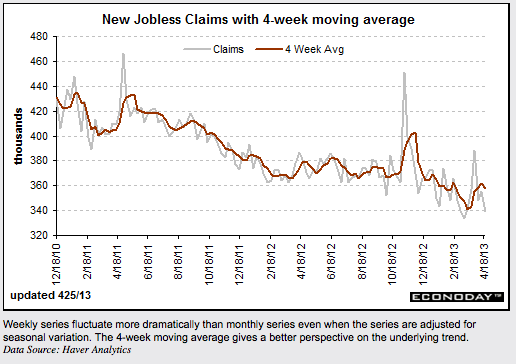 Don't Miss: Low Interest Rates Are Still Juicing the Housing Market.