Is the U.S. Economy Still Driven By Its Service Sector?
The services side of the United States economy employs approximately nine out of every 10 Americans, and so the Institute for Supply Management's monthly reading of its non-manufacturing index is a closely examined metric for analysts and investors assessing the country's economic health. Services companies in industries like healthcare, retail, and entertainment have been responsible for leading the economic recovery over much of the past year as manufacturing faltered.
Ahead of Wednesday's report, economists polled by MarketWatch had expected the index to show that the non-manufacturing sector continued to expand at a strong pace, albeit slightly below the 12-month high of 56.0 percent recorded in February. The actually results came in slightly below predictions for 55.8, but the non-manufacturing index reading of 54.4 still showed expansion. On ISM's index any reading below 50 signals contraction in the services sector, while any reading above that level indicates growth. However, service industries did expand at their slowest pace in seven months.
While economic activity in the non-manufacturing sector grew for the 39th consecutive month, the report followed a negative reading of ISM's factory index. On Monday, the institute announced that growth in the manufacturing sector — which accounts for 12 percent of the economy — fell from a reading of 54.2 in February to 51.3 because new orders increased at a sluggish rate last month…
This drop signals that it may be difficult for the economy to accelerate this quarter, as businesses are assessing the impact of the across-the-board federal government spending cuts that went into effect at the beginning of March. However, at the same time, job growth and lower borrowing costs could strengthen sales at automobile dealers and retailers like Macy's (NYSE:M), according to Bloomberg.
"It is a temporary pause after running at a pretty heady clip," Societe Generale economist Brian Jones, told the publication, regarding the slow growth in the non-manufacturing sector. "Consumer spending is going to be fine. The economy will pick back up in the second half," of the year, he added. Despite fears that the end of the payroll tax holiday in January would hurt consumer spending, progress in the labor market has soften the blow of the 2 percent increase, and consumer spending — which makes up approximately 70 percent of the economy — rose the most in five months in February.
March's lower-than-expected growth in the service sector was prompted by a cooling in new orders and employment; those indices dropped from 58.2 to 54.6 and from 57.2 to 53.3, respectively. In addition, the institute's gauge of business activity decreased from 56.9 to 56.5 while the index of prices paid eased from 61.7 to 55.9.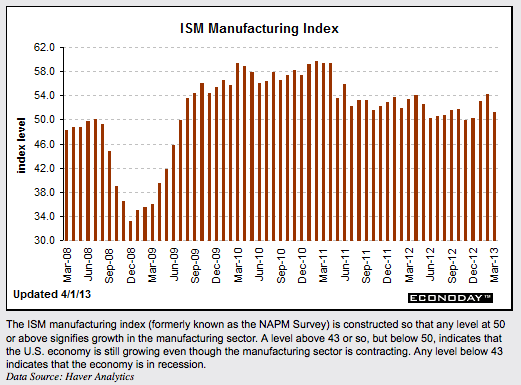 Don't Miss: Will Mortgage Applications Keep the Housing Recovery Story Alive?