Is There Room on the Rack for Gap?
On Thursday, Gap Inc. (NYSE:GPS) announced it will be closing and downsizing many stores in the US.  The clothing giant has been struggling for years as shoppers have changed their wardrobes.  The company plans to reduce the number of Gap brand stores across North America by 21% to 700 in the next two years.  The company plans to keep the same number of its Old Navy brand stores, but will reduce square footage by 1 million in order to downsize stores and cut costs.
Over the past couple years, Gap stores have become known for dull and neutral clothes, not something cash strapped consumers are willing to spend money on.  There are two extremes in the clothing retail sector these days, and Gap falls right in the middle.  On the one extreme, you have consumers shopping at Target (NYSE:TGT) for cheaper clothes with styles that still appeal to many.  On the other end of the rack, you have higher end stores like Banana Republic (owned by Gap Inc.) which still attract buyers that are able to splurge on clothing.  Gap's middle of the rack approach is not appealing to investors either.
Don't Miss: Inside Apple's Upcoming Quarterly Earnings Release.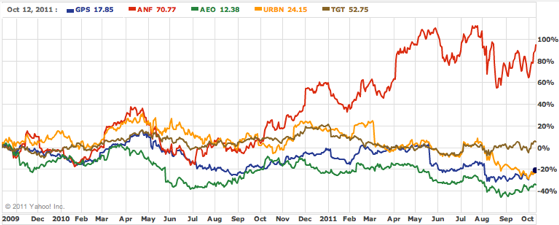 Another trend that Gap has missed is the trendy young crowd.  As the chart above shows, shares of Abercrombie & Fitch (NYSE:ANF) have soared in the past two years, while Gap Inc. has trended lower, but on pace with Urban Outfitters (NASDAQ:URBN).  Gap Inc.'s other brands such as Banana Rebpulic have kept shares ahead of American Eagle Outfitters (NYSE:AEO), which has seen a share price decline of 33% over the past two years.
Although Gap Inc. is reducing its exposure in the US, the company is expanding operations in China (NYSE:FXI).  The company expects to increase the number of Gap stores from 6 to 45 by the end of next year.  It also expects to double its franchise stores to about 400 by the end of fiscal 2014.  International sales is definitely an area that needs improvement for Gap Inc.  The company recently announced a 13% decline in international comp sales.  Although China is a huge potential market for Gap, slowdown fears or a hard landing in China could dampen Gap shares even more.
Investing Insights: JPM Earnings Are This Ugly Without Accounting Tricks.