Is This Data Evidence of a Labor Market Slowdown?
Gains recorded by the Labor Department's weekly report on initial claims for unemployment benefits had begun to paint a rosy picture of increasing strength in the labor market at the beginning of the year. Then came March's Employment Situation report — compiled by the Bureau of Labor Statistics — that showed the United States economy created a disappointing 88,000 jobs in March, a sharp decline from the 268,000 jobs added to payrolls in February. Those figures were a new low for the recovery, and the month's participation rate was even at its lowest since 1979.
The picture of April's labor market gains is similarly grim. Payroll processor ADP, along with Moody's Analytics, announced Wednesday that businesses added 119,000 jobs to their payrolls from March to April — a figure below analysts' expectations for 150,000 new jobs. While job growth picked up from the previous month, the labor market still remains mired in a slowdown. Even more concerning, ADP's data — often slightly divergent from the Labor Department's figures — showed that payroll gains in March were revised down to 131,000 from 158,000.
"Job growth appears to be slowing in response to very significant fiscal headwinds," Moody's chief economist Mark Zandi said in a press release. "Tax increases and government spending cuts are beginning to hit the job market," he added.
Economists expect the Labor Department will report 148,000 job additions in March, including the private sector and federal, state and city governments, which have been cutting payrolls.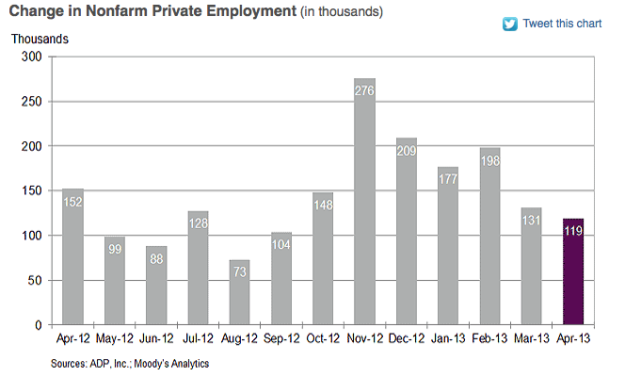 Don't Miss: Is the College Debt Bubble Starting to Crack?