Is This Jobs Report Proof of an Economy On the Mend?
The number of Americans filing claims for unemployment benefits decreased more than expected last week, indicating that the United States economy is slowly coming back to life.
Economist polled by Reuters had expected claims to fall to 360,000, but instead, the Labor Department reported on Thursday that initial jobless claims dropped by 27,000, hitting a seasonally-adjusted 341,000. Unlike Superstorm Sandy, last week's blizzard in the Northeast appears to have had little effect on the broader claims data, a department analyst told the publication.
While companies may not be laying off workers as aggressively as they have in the past, with consumer demand still soft, hiring has not gathered much momentum. The economy has struggled to grow since the 2007-2009 recession came to an end, and growth has barely surpassed 2 percent, according to Reuters.
Throughout 2012, job growth was sluggish. The economy added 181,000 per month on average, and that figure is far below the 250,000 jobs per month that economists say are needed to reduce the number of unemployed.
A more reliable measurement of unemployment claims — the four-week moving average, which softens week-to-week volatility — rose 1,500 to 352,500. This measurement dropped the previous week, but, as Reuters reported, that decrease was likely exaggerated by difficulties smoothing out the data for seasonal fluctuations that often come at the beginning of the year.
Continuing claims for benefits, those drawn by workers who have been unemployed for more than a week, have stuck around 3.2 million since late November, which economists have said is an indication that the unemployment rate has changed little, although the jobless rate did increase by 0.1 percentage point to 7.9 percent in January.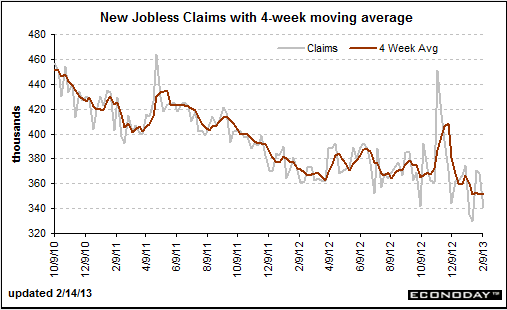 Don't Miss: Obama Gives a Shout-Out to These Companies.