Is This Obamacare Provision a Watershed for American Healthcare?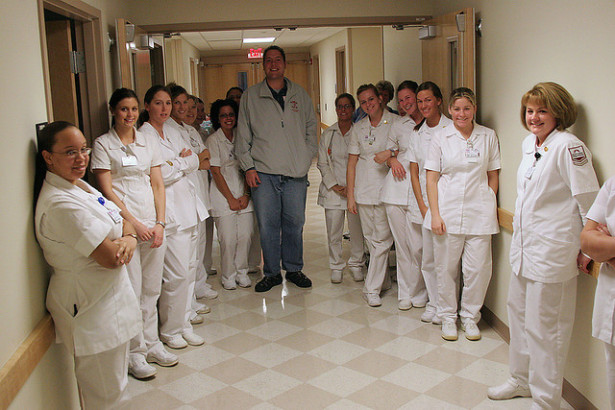 "There is something fundamentally changing in health care. Hospital admissions are being better managed and are being reduced," Jonathan Blum, the director of the U.S. Centers for Medicare and Medicaid Services, told Bloomberg.
Much of the news currently surrounding the Affordable Care Act is related to the upcoming implementation of its key provision — the superstore-like insurance exchanges that will extend coverage to 16 million people next year. Concerns that this system represents an overly large expansion of the role of the federal government and fears that it will cause insurance premiums to significantly rise have grabbed headlines for weeks.
But one provision of Obamacare has already begun to strengthen the American healthcare system; with five months left to go before the reform law goes into full effect, hospitals are improving care and saving millions of dollars with one of the least touted but possibly the most effective provisions of Obamacare. Across the United States, 1,252 hospitals and physician groups have joined the government's accountable care program, which was created to enable them to share the financial risk of keeping patients healthy.
This program makes hospitals and physician practices take responsibility for tracking and maintaining the health of elderly and disabled patients. In the event costs rise beyond an agreed upon level, hospitals may be responsible for reimbursing the government. But if costs are cut while quality is maintained, hospitals may receive a portion of the savings. The government expects that as much as $1.9 billion will be saved from 2012 to 2015.
Already, early evidence suggests that the savings will indeed add up. "We're providing better care because we're keeping people out of the hospital," Kenneth Davis, president of Mt. Sinai Hospital in New York, told Bloomberg. Mt. Sinai has lowered emergency room visits by 54 percent among high-risk patients while New Jersey's Hackensack University Medical Center saved approximately $16 million in healthcare costs for about 11,000 Medicare patients, who are part of the hospital's accountable-care program. Other indicators point to a similar change. The proportion of Medicare patients who were readmitted to the hospital within 30 days of discharge fell by one percentage point to about 18 percent last year, the first significant decline in that metric in five years.
However, less than 10 percent of Medicare's 51 million beneficiaries are treated by hospitals or physicians that have joined the accountable care program, according to the U.S. Centers for Medicare and Medicaid Services. Still, it could be watershed moment, as Bruce Merlin Fried, who serves as general counsel to the National Association of Accountable Care Organizations, suggested to Bloomberg.
The program has done much to insure that healthcare providers are more accountable as well. For example, Mt. Sinai utilizes a multimillion-dollar supercomputer called "Minerva," which was originally meant to conduct genomic studies, to mine patients' medical claims data. This system identifies those patients with the highest risk to be admitted to the hospital, the hospital's president said. It also enables healthcare workers to fill prescriptions and ensure patients take their medications and make it to doctors' appointments. "We do this for impoverished communities with frayed social networks," Davis said. "Are they buying and eating the right foods, taking their medicines?"
Accountability is also good for the institution. In accordance with the Affordable Care Act, the accountable-care program requires hospitals and doctors to show they are improving, or at least maintaining, the quality of their care before they are paid any bonuses.
Follow Meghan on Twitter @MFoley_WSCS
Don't Miss: 5 Reasons the European Crisis Is Far From Over.