Is Thursday a Scary Day for Natural Gas Investors?
Political arguments aside, natural gas, which is found in deep underground rock formations or in shale formations, is a resource that is not only abundant, but also clean and extremely cheap. Back in 2000, shale gas only accounted for 1 percent of United States gas production, but that figure grew quickly, rising to 20 percent by 2010, and the Energy Information Administration has estimated that shale gas will account for 46 percent by 2035. But, while shale and natural gas will clearly benefit the world's energy markets in the next few decades, as supplies have increased, prices have plummeted. In 2008, natural gas futures traded for about $13 per thousand cubic feet. Now it is trading just above $4 after hitting below $2 per thousand cubic feet last spring.
Further increases in natural gas inventories have continued to depress prices in recent weeks. On Thursday, the EIA reported that U.S. natural stockpiles increased by 88 billion cubic feet last week, above the expected gain of about 83 billion cubic feet. Ahead of the report's release, natural gas futures were down approximately 2 percent, at $3.95 per million British thermal units, and then dropped to $3.90 immediately afterwards. Analysts examined this week's report especially closely, looking for signs that supported the previous week's data, which sent prices down by the largest amount in nine months.
"If we get a surprisingly small injection, then the bulls will try to jack this market higher," Tradition Energy analyst Gene McGillian told Bloomberg before the report. However, the injection was not small; the gain in natural gas supplies was much higher than the five-year average of 69 billion cubic feet and last year's addition of 30 billion, according to the EIA.
In total, the Energy Department's statistical arm stated that working stocks of natural gas in the U.S. amounted to 1.87 trillion cubic feet last week, about 99 billion cubic feet lower than the five-year average of 1.96 trillion cubic feet. Comparatively, working gas in storage totaled 2.6 trillion cubic feet for the same seven-day period last year.
While inventories were slightly below the five-year average, weather had little impact on the results. Spring weather has begun to warm, ending the unseasonable cold trend that drew down supplies in recent weeks. Yet, the warming weather has created concerns that speculative long positions on natural gas futures will lead to a sell-off, which would depress prices even further, especially as heavy demand for summer cooling is still several weeks away.
Following the report, shares of Exxon Mobil (NYSE:XOM), the largest natural gas producer in the U.S., inched upward by as much as 0.20 percent to $91.25, while shares of Chesapeake Energy (NYSE:CHK) traded up 2.29 percent at $19.63 and the Natural Gas Fund (NYSEARCA:UNG) rose 0.33 percent to $21.57.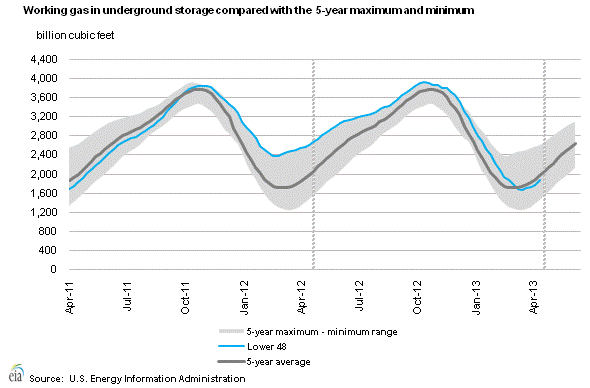 You can follow Meghan on Twitter (@MFoley_WSCS) for the latest industry news.
Investing Insights: Is Yamana a High-Risk Play?