Is U.S. Confidence Still Recovering from Congress?
Although Congress reached a temporary deal on the fiscal cliff at the beginning of the year, pessimism among small business owners has yet to fully recover and remains near the worst levels in recorded history.
The National Federation of Independent Business, the leading nonprofit small business association representing small and independent businesses, said its Small Business Optimism Index edged 0.90 points higher to 88.9 in January, compared to 88.0 in the previous month. January's reading is still within earshot of the pessimism seen in December, which was the second worst reading since March 2010.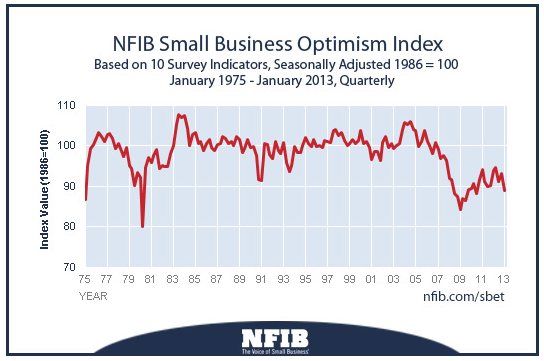 Congress reached a mini-deal on the fiscal cliff, which includes higher taxes, but the spending cuts are coming back into focus as they are set to begin March. The cuts are feared to weigh on an already weak economy. Earlier this month, the Commerce Department reported the U.S. economy shrank in the fourth quarter for the first time in three and a half years.
A weak economy means a dismal outlook for jobs…
Bill Dunkelberg, chief economist at the NFIB, explains, "The Optimism Index barely budged in January. The only good news is that it 'budged' up, not down. If small businesses were publicly traded companies, the stock market would be in shambles. While corporate profits are at record levels as a share of GDP, small businesses are still struggling to turn a profit. With the dismal news that our economy actually contracted in the fourth quarter of 2012, it isn't any wonder that more small firms expect their real sales volumes to fall, few have plans to invest in new inventory, and hardly any owners are expanding or hiring. Owner pessimism is certainly not surprising in light of higher taxes, rising health insurance costs, increasing regulations and just plain uncertainty."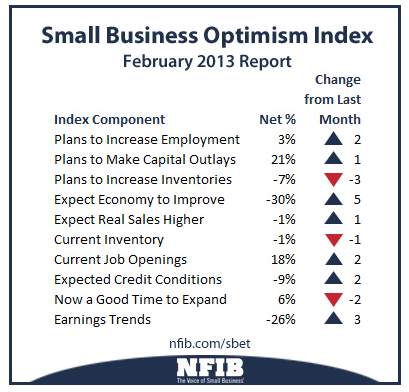 Sales remains in negative territory for small businesses. The net percent of all owners reporting higher nominal sales over the past three months only improved by one point in January to reach a negative nine percent. In comparison, the five-year high of net four percent was reached last April. Going forward, the net percent of owners forecasting higher real sales volumes gained one point to a negative one percent of all owners, 13 points below the 2012 cycle high in February 2012.
Naturally, job creation remains low and will continue to weigh on the confidence of consumers. Overall, only 11 percent of surveyed small business owners reported adding jobs over the past few months, while 80 percent made no change in payrolls. Plans to increase employment increased 2 points from December, but still remains historically low.
Don't Miss: What Do Top Executives Think About the Economy?