Is Wal-Mart Facing Inventory Pile-Up Problems?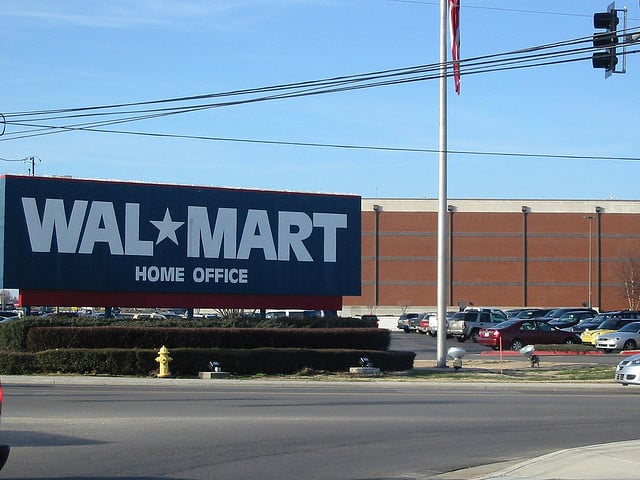 Wal-Mart Stores (NYSE:WMT) is reportedly running into a little bit of retail trouble, or is it? That question is still up in the air as Bloomberg and CNBC appear to disagree over the answer. Bloomberg reported Wednesday that Wal-Mart is cutting its orders with suppliers due to inventory backlog. However, CNBC responded to that story just minutes later, claiming that the report is "completely false" according to Wal-Mart spokesman, David Tovar.
Bloomberg initially won its story lead with the help of a supplier who claims he has worked with Wal-Mart for over two decades, but wished to remain anonymous. He told the reporter that Wal-Mart has cancelled a number of supply orders up to two quarters in advance in an attempt to stem rising U.S. inventory growth at Wal-Mart's stores. That story was also corroborated by the retailer's email to the supplier, dated Sept 17, that read, "We are reducing inventory for Q3 and Q4."
Tovar told CNBC that Bloomberg's story is "misleading," but while he maintained that Wal-Mart is always managing its inventory levels, he never refuted Bloomberg's main assertions, and instead only agreed that the company has hundreds of inventory categories. That means that there is likely at least some truth to Bloomberg's report, and Wal-Mart consumers can even validate that upon entering the retailer's stores.
Since Wal-Mart's merchandise has been piling up, many of the chain's locations have had to start putting out seasonal goods as soon as they arrive, even if that means a month ahead of schedule. The problem is that the retailer has an inadequate amount of workers to keep its shelves stocked, and that leads to inventory back-up in the back rooms, leaving workers no choice but to bring seasonal items out to the sales floor, hoping they'll sell just as well as their neighboring marked-down merchandise.
Consumers aren't the only ones witnessing these changes. Bloomberg reports that suppliers in various categories have also been affected by Wal-Mart's order pullback, and its corporate goal of "growing inventory at or less than the rate of net sales growth." The last time the Bentonville, Arkansas-based company met that goal was four quarters ago, and in its most recent earnings report, analysts learned that it now has a long way to go.
In the second quarter, U.S. inventory grew at 6.9 percent, compared to its U.S. sales which only rose 2 percent. Bill Simon, chief executive officer of Wal-Mart's U.S. division attributed this inventory increase to "softer than anticipated sales trends, the delay in summer weather, and timing shifts in the receipt of merchandise for back-to-school and the upcoming holiday season," but not all investors are buying it. The retailer's rivals are making sales gains at a faster rate than their U.S. inventory growth, and now, consumers, investors, and analysts are wondering if there is reason for Wal-Mart to worry.
As of now, the company is planning to add 35,000 permanent workers this holiday season, increase the hours of an additional 35,000, and hire 55,000 seasonal employees, but it is still unclear whether those efforts will prove to be enough. Wal-Mart is already marketing merchandise that it didn't plan on putting out until Black Friday, and that Christmas inventory is displacing other items that the retailer has been forced to mark down.
It'll be interesting to see if Wal-Mart continues to refute reports highlighting these retail problems, but for now, consumers can witness the changes themselves in their very own Wal-Mart stores.
Don't Miss: Burger King: Full-Fat Fries Are So Last Season