Is Wall Street Finally Accepting Social Media?
Social media has been spreading around the Internet faster than mug shots of Lindsay Lohan. With more than one billion users, it is estimated that nearly 70 percent of adults on the Internet use some form of social networking. It may seem like everyone is comfortable with social media at this point, but the phenomenon is still spreading.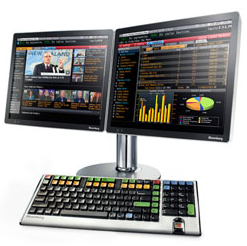 With Facebook (NASDAQ:FB) and LinkedIn (NYSE:LNKD) going public in recent years, it would appear that Wall Street was already plugged into social media, but the investment world continues to gain exposure. Bloomberg L.P. recently announced that it is integrating Twitter feeds directly into its subscription data service, which is widely used in the financial industry at a cost around $2,000 per month. In addition to monitoring markets and analyzing securities, Bloomberg Terminals will display real-time Tweets.
Jean-Paul Zammitt, head of sales and product development for the Bloomberg Professional service, explains in a press release, "When important news is shared on Twitter, traders and investors need to be able to access it, and validate its importance in order to incorporate that information into their decision making process. Bloomberg's platform now provides this ability, along with the high-quality news, data and analytics our users need and have come to expect from us."
Bloomberg classifies tweets by company, asset class, person, and topic. Subscribers can also create Twitter filters and alerts, keep an eye on what companies are trending, or set alerts for unusual levels of social media activity at TWTR<GO> on the Bloomberg Professional service.
Not every tweet will be displayed…
To keep the focus on business topics, subscribers will not be able to send tweets and only approved news outlets, financial writers, and economists will have their tweets displayed. We are proud to say that Wall St. Cheat Sheet (@wallstCS) made the cut, along with the likes of CNBC, Financial Times, Felix Salmon from Reuters, and many more.
While many on Wall Street already keep in touch with Twitter through personal computers or smartphones, the move from Bloomberg is the latest acceptance of social media as a professional tool. Last week, the Securities and Exchange Commission decided to step into the 21st century by saying companies could announce news through social media sites, as long as investors receive advance notice that a service like Twitter will be used for disclosure purposes.
The SEC was essentially forced to address the role of social media after Netflix's (NASDAQ:NFLX) CEO Reed Hastings posted to his Facebook page last July that viewing on the streaming media company "exceeded 1 billion hours for the first time" in June. Netflix and CEO Reed Hastings received a Wells Notice from the SEC, a warning indicating the regulators might bring civil action against the company. However, the SEC decided not to pursue any sanctions.
Don't Miss: 3 Simple Steps to Improve Your Retirement Nest Egg