Is Weird Weather Good For Natural Gas?
As inventories have shrunk, gas prices have more than doubled their year-earlier levels this month. The U.S. Energy Information Administration stated Thursday that natural gas stocks increased by 31 billion cubic feet last week, pushing the total natural gas inventory to 1.7 trillion cubic feet.
At this level, the U.S. working stockpile of natural gas is approximately 74 billion cubic feet lower than the five-year average of 1.77 trillion cubic feet. For comparison, working gas in storage amounted to 2.5 trillion cubic feet in the same period last year.
Colder temperatures have lingered since March, driving gas prices higher and significantly tightening inventories in recent weeks. While gas stockpiles usually begin to increase at the end of the peak winter demand season, the unseasonably cold weather this month has forced inventories down at a time when they typically rise.
With this guide trend, natural gas futures rose 2.2 percent, to $4.20 per million British thermal units, ahead of the Environmental Information Administrations natural gas report. Analysts expected that the EIAs report to show slightly higher reserves, estimating that gas inventories rose by 33 billion cubic feet last week…
Cold weather continues to be in the forecast for the upcoming week, but natural gas prices may swing back to moderate levels because utilities are switching back to lower-priced coal.
"Without a strong fundamental driver, such as weather- related demand, investors will likely be tempted to take profit from the month-to-date rally," Teri Viswanath, director of commodities strategy at BNP Paribas, told Bloomberg Businessweek. "However, we don't anticipate a large drop in prices but rather a slow deterioration until such time that the inventory injections begin to pick up."
In total, natural gas futures for May delivery increased 18.7 cents, or 4.4 percent, to $4.401 per million Btu on Thursday, the highest settlement since July 20, 2011. Prices rose 4.2 percent during the first four days of this week, and if the gains are sustained through Friday, prices will have increased for nine consecutive weeks, a record streak dating back to April 1990, according to data compiled by Bloomberg.
Following Thursdays report, shares of Exxon Mobil (NYSE:XOM), Chesapeake Energy (NYSE:CHK), and the U.S. Natural Gas Fund (NYSEARCA:UNG) edged slightly higher. While Exxon managed to hang on to its gains — trading up as much as 0.14 percent at $86.74 on Friday — Chesapeake was down by as much as 2 percent, trading at $18.58.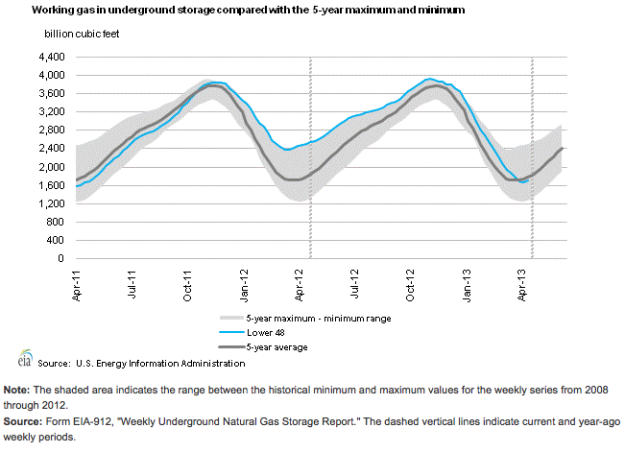 Don't Miss: Central Banks Find Silver Lining in Gold Plunge.