Is Wendy's Campaign to Attract Hispanics Failing?
According to a study released by Placed Insights on fast-food consumption in America, Wendy's (NYSE:WEN) remains unpopular among the growing Hispanic demographic despite a new Latino-targeted ad campaign.
Placed recently released its "Dining Out in America: The Quick Service Restaurant Landscape" study, which gave in-depth information about consumers' relationships with fast-food and casual dining restaurant chains.
David Shim, founder and Chief Executive Officer at Placed, explained why he believes such an in-depth study of the fast-food industry is important. "Americans have more options than ever when dining out, fueling a growing battle for a limited set of dollars, " he said. "In a space as competitive as fast food, data is the differentiator in terms of a winning and losing brand. By measuring the connection between people and places, restaurants are able to look beyond their counters and pull dollars away from their competitors."
McDonald's (NYSE:MCD) was the number one fast food destination in all four regions of the country, though there was significant variation between different areas of the country in the remainder of the top ten companies. Coffee drinkers seem to be located primarily on the coasts, with Starbucks (NASDAQ:SBUX) and Dunkin' Donuts (NASDAQ:DNKN) holding the number two spot in the West and Northeast, respectively.
Sandwiches were popular in the Midwest and the South, with Subway — which is owned by Doctor's Associates, Inc. – being number two in both of those regions. Mexican food was found to be most popular in the Midwest, with Taco Bell – subsidiary of Yum! Brands (NYSE:YUM) — and Chipotle Mexican Grill (NYSE:CMG) both cracking the top ten for the region.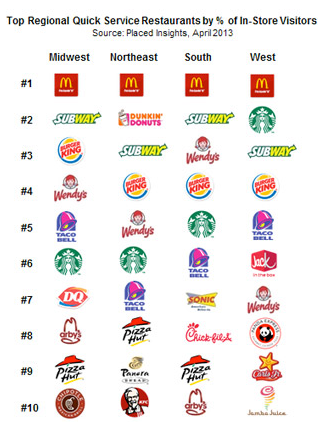 The most surprising finding, though, was how unpopular Wendy's is in the Hispanic community. The study found that Hispanics were less likely to eat at Wendy's than McDonald's, Burger King (NYSE:BKW), or Taco Bell. Despite its recently launched, Hispanic-targeted ad campaign, Hispanics were 16 percent less likely to visit Wendy's than the average American fast-food consumer.
As the largest Spanish-language food advertiser, McDonald's showed the strongest skew towards Hispanic customers.
Don't Miss: Smithfield's Big Leap: This Little Piggy Goes to China.