Isis Will Add a 12 mg Cohort to Its Spinal Muscular Atrophy Study
Isis Pharmaceuticals Inc. (NASDAQ:ISIS): Closing price $36.11
Isis said Friday that it plans to add a 12 mg cohort to the ongoing Phase 1b/2a study evaluating ISIS-SMN in children who have spinal muscular atrophy. Further, a 12 mg dose will be included in an open-label extension study for those children who have completed dosing in previous studies. The addition of the 12 mg cohort will permit the investigation of this dose in support of the Phase 2/3 registration-directed program planned to begin in 2014.

Synta Pharmaceuticals Corp. (NASDAQ:SNTA): Closing price $4.82
Synta has announced two publications with results demonstrating the activity of ganetespib in preclinical models and in a clinical treatment setting of triple-negative breast cancer. The drug is a potent and selective inhibitor of the Hsp90 chaperone protein being studied in more than 25 clinical trials, including a pivotal Phase 3 trial in non-small cell lung cancer. The results show the ability of ganetespib to down-regulate several key proteins involved in tumor growth and metastasis.

Regeneron Pharmaceuticals Inc. (NASDAQ:REGN): Closing price $292.91
On Friday, Regeneron announced that EYLEA (aflibercept) Injection has received clearance for the treatment of Macular Edema Following Central Retinal Vein Occlusion from the Japanese Ministry of Health, Labor, and Welfare. EYLEA was okayed in the United States for the treatment of neovascular (wet) Age-related Macular Degeneration in November 2011 and for Macular Edema following Central Retinal Vein Occlusion in September 2012. EYLEA has also been cleared in the European Union, Japan, Australia, and in several other countries for use in wet AMD.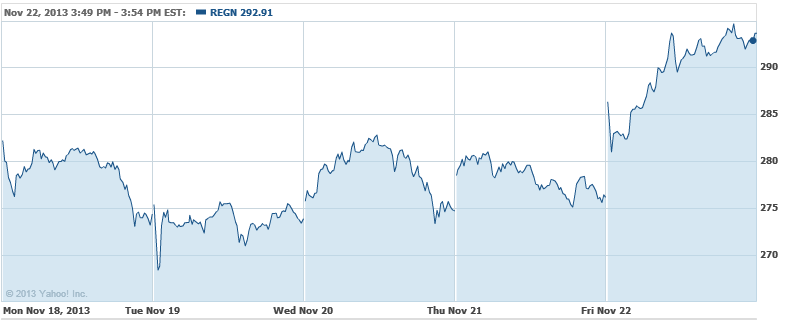 POZEN Inc. (NASDAQ: POZN): Closing price $7.63
POZEN has announced that its board has declared a special cash distribution of $1.75 per share to all stockholders of record as of the close on December 11, with an expected payment date of December 30. This distribution marks a surplus of corporate cash and should be treated as a return of capital to stockholders.

Don't Miss: 5 Best Value Travel Destinations of 2014.