ISS Stands With Softbank's Sprint Bid, Kodiak Oil Goes Shopping, and 3 More Hot Stocks
Sprint-Nextel (NYSE:S): Proxy firm ISS has weighed in on Sprint's acquisition situation, and has urged shareholders to vote in favor of Softbank's $20.1 billion bid for a 70 percent stake in the company. The report did not yield an opinion on rival bidder Dish Network's (NASDAQ:DISH) offer, but it did note that that the Softbank offer would provide Sprint with the money it needs to purchase more spectrum and complete the upgrade of its network. Another proxy, Egan-Jones, has stood opposed to Softbank's offer, with the split making the companies' pitches to shareholders all the more crucial.

Kodiak Oil & Gas Corp. (AMEX:KOG): Kodiak has entered into an agreement to acquire core producing properties Bakken and Three Forks, as well as an undeveloped leasehold in the Williston Basin of North Dakota for $660 million. The net oil and gas production included in the pending acquisition is currently  around 5,700 barrels of oil equivalent per day.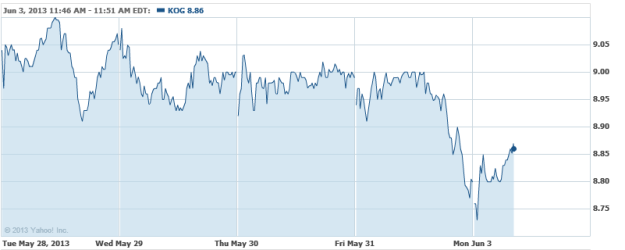 GlaxoSmithKline (NYSE:GSK): All eyes are on the FDA this week, as a panel is exploring the lifting of safety limits on Glaxo's Avandia diabetes medication, as the pill is apparently "not as risky as once thought," according to the latest analysis. Avandia became the best-selling diabetes drug in the world, with sales of $3.4 billion before it was subjected to stringent safety restrictions in 2010. An analysis suggested that the drug could be responsible for increasing the risk of heart attacks, and prescriptions plummeted.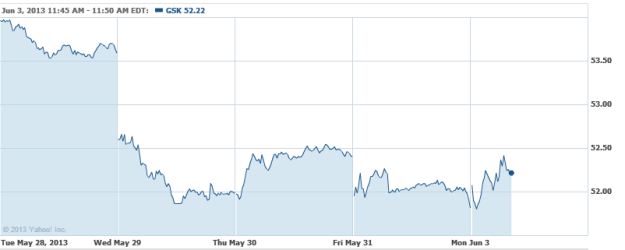 BlackStone (NYSE:BX): BlackStone is reportedly entertaining a bid along with Glencore Xstrata (GLCNF.PK) for a 59 percent stake belonging to Rio Tinto (NYSE:RIO) in Iron Ore of Canada, according to sources. Rio put the stake on sale earlier this year, and observers are noting that BlackStone might be the favored buyer, as Glencore is still working to fully integrate Xstrata.

Don't Miss: Will Apple Pick This File-Sharing Tool for iOS 7?