It Wasn't Weather That Pushed Crude Futures to 4-Month High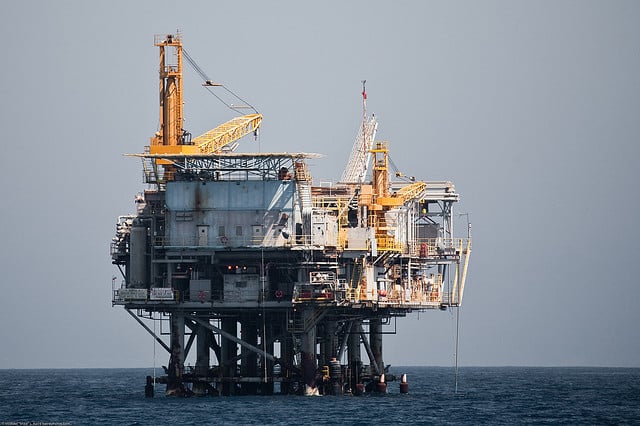 While oil prices rose on both sides of the Atlantic on Thursday, brushing a four-month high on concerns that escalating violence in Egypt could affect the Suez Canal, oil and gas producers in the Gulf of Mexico began evacuating workers from offshore facilities to guard against a low-pressure system that was threatening to become a cyclone.
Both Marathon Oil (NYSE:MRO) and BP (NYSE:BP) said Thursday that they were removing nonessential personnel as the storm traveled from the Caribbean Sea to the gulf. Marathon spokeswoman Lee Warren told The Wall Street Journal that an unspecified number of workers would be removed from the company's Ewing Bank platform, located about 130 miles south of New Orleans, while BP began a similar evacuation from its four deep-water production platforms in the Gulf, according to statement posted to its website.
However, both companies said they are continuing to pump oil and gas, and that production would remain unaffected. Chevron (NYSE:CVX), ConocoPhillips (NYSE:COP), and BHP Billiton (NYSE:BHP), which also have operations in the gulf, said Wednesday that they were monitoring the weather, as well.
But by late Sunday, the tropical storm had dissipated and BP announced it would begin returning offshore workers to its production platforms, according to Reuters.
Weather was only a small factor in the movement of oil futures at the end of last week. Contracts for front-month September Brent — a European trading benchmark — that expire on Thursday settled up 91 cents at $111.11 per barrel after earlier hitting $111.53, the highest price since April 2.
United States West Texas Intermediate crude rose 48 cents to settle at $107.33. In addition, Brent's premium to U.S. crude ended the session at $3.78 after hitting a high of $4.10, close to its 50-day moving average of $4.29. Oil prices rose despite a weak performance in the U.S. equity markets, which took a hit after Wal-Mart (NYSE:WMT) and Cisco (NASDAQ:CSCO) reported disappointing results.
"The push-pull has been the Egypt crisis and the Libyan oil outages versus the strong weekly jobless claims number, which is a negative for the market because it increases the chances of the Fed pulling back on easing sooner rather than later," Again Capital's John Kilduff told Reuters. "The status of Libya's output will continue to be closely watched and will likely be the difference maker for the market into the weekend," he added.
Protests in Libya, led by producers that want to export oil independently of the state oil company, have left many of the country's crude oil terminals blocked and exports down by 50 percent or more.
Still, oil futures eased slightly on Monday, indicating that investors took profits after last week's jump. Light, sweet crude for September delivery dropped 22 cents, or 0.2 percent, to $107.24 per barrel on the New York Mercantile Exchange early Monday, while Brent crude on ICE Futures Europe increased 31 cents to $110.71 per barrel.
For now, analysts interviewed by The Wall Street Journal say Brent crude will remain supported by the tensions in Egypt and Libya, while traders are waiting for the U.S. Energy Information Administration's weekly report on crude oil inventories and the minutes of the Federal Open Market Committee to judge the condition of the U.S. energy market.
Follow Meghan on Twitter @MFoley_WSCS