It's a Fiesta! Women's World Car of the Year Goes to Ford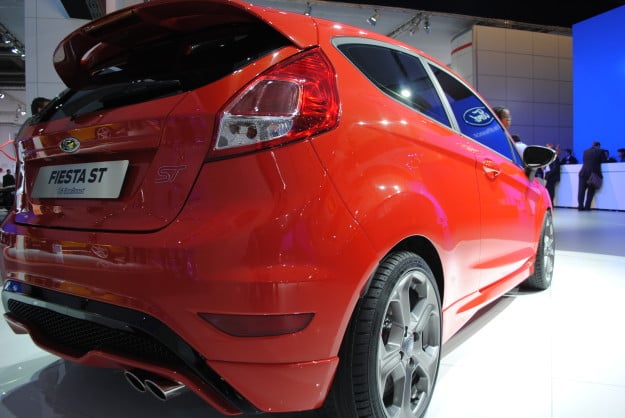 Who runs the world? Girls. Who runs the cars? Ford (NYSE:F).
These answers are true, at least according to Beyonce and a panel of 18 female automotive writers from around the world who judged cars based on criteria that women have been known to use when car shopping: safety, value for money, appearance, storage space, child friendliness, ease of driving, color, sex appeal, and environmental footprint.
Autoblog reports that the panel picked the best car in eight categories, making Ford Motors's day by choosing its Fiesta 1.0-liter EcoBoost as the Women's World Car of the Year. The panel said it was impressed by the vehicle's appealing style and technological capabilities, also finding it fun to drive and affordable.
The vehicle's 125 horsepower (92 kW) 1.0-liter EcoBoost engine probably didn't hurt its chances either. Emitting 99 g/km of CO2 , the engine won the prestigious International Engine of the Year award in 2012 and 2013, and can now take home another trophy.
It is certainly an exciting prize for the U.S. automaker, which has been working to resurrect its own success in North America, Asia, and Europe, all while competing with foreign and domestic automakers that continue to roll out successful premium and non-premium cars. Ford has made significant progress this year with its Ford Focus and line of full-size pickup trucks, but it still is failing to see facetime on rankings that come from surveys like J.D. Power's "2013 Automotive Performance, Execution and Layout Study."
That study showed that U.S. consumers are now easing into paying more for appealing, high-quality brands like Audi, Porsche, and BMW. But while Ford's Lincoln is notably absent from the ranking of premium marquees that drivers are especially after, the Dearborn, Michigan-based car manufacturer now gets sweet revenge with its latest award, beating out the Range Rover and Porsche for the top spot and proving that women consumers are not only after style but also affordability, safety, and practicality.
Autoblog also reports on other cars that won in their respective categories, including the Mazda CX-5, which took home the SUV title; the Range Rover for luxury; the Porsche Boxster S for sports car; and the Audi Allroad for family car.
Don't Miss: Ford: Rolling with Record First-Half Profit, But Not Stopping There.