J.C. Penney Calls In The Reserves and 4 Other Hot Stocks
J.C. Penney (NYSE:JCP): It its quest to raise $1 billion, the retailer has reportedly enlisted the help of Goldman Sachs (NYSE:GS) and JPMorgan Chase (NYSE:JPM) to explore using its land assets as a means of collateral. The banks will be joining the Blackstone Group (NYSE:BX), which has already been tapped by key investor Bill Ackman to help sort out the mess left from a failed turnaround attempt.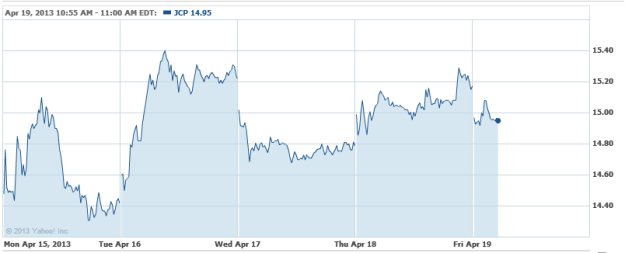 McDonald's (NYSE:MCD): The good news is that McDonald's earnings fell in-line with estimates, at $1.26 per share. The better news is that its revenue of $6.61 billion beat expectations by $0.02 billion. Global comparable sales decreased by 1 percent, as did consolidated operating income by the same amount. Consolidated revenues increased by 1 percent, and the company returned $1.1 billion to shareholders through dividends and share repurchases.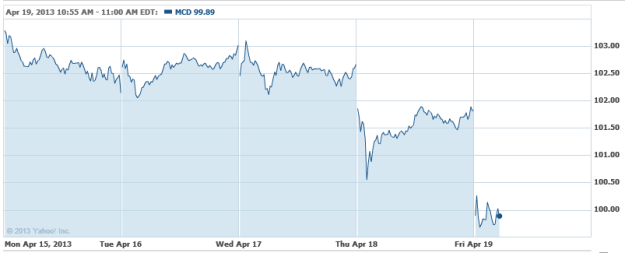 Mondelez International (NASDAQ:MDLZ): Billionaire Nelson Peltz, of Trian Fund Management fame, has disclosed that his firm now holds a $2.7 billion stake in Mondelez as well as PepsiCo (NYSE:PEP), owing speculation to the idea that Peltz is seeking a board position with one of the two firms. With a history of spin-offs at the other companies he has set root in, Peltz would most likely pressure Pepsi into spinning off Frito-Lay and merging it with Mondelez's Kraft Foods line. Trian refused to comment on the matter, while Pepsi hoped for further constructive discussions with the firm.

Schlumberger Limited (NYSE:SLB): Staying consistent with first quarter trends across numerous industries, Schlumberger has reported earnings that just edged out expectations, but fell just short of projections on the revenue front. Earnings of $1.01 beat estimates by $0.02, and revenue of $10.67 billion narrowly missed by $0.08 billion. The firm's outlook didn't exactly instill confidence, though. ""The outlook for North America remains uncertain, with lower-than-expected rig activity and continuing pricing weakness," CEO Paal Kibsgaard said. The first quarter's solid performance was attributed to strong international performance, which it does foresee continuing in Middle Eastern and African markets.

Don't Miss: Americans Are Raiding Retirement Accounts.