J.C. Penney Earnings Cheat Sheet: Tops Analysts' Expectations
S&P 500 (NYSE:SPY) component J.C. Penney Company Inc. (NYSE:JCP) reported net income above Wall Street's expectations for the first quarter. J. C. Penney Company, Inc. is a holding company that offers merchandise and services to consumers through department stores and direct (Internet/catalog) channels.
Don't Miss: Wall St. Cheat Sheet's newest Feature Trades of the Month!
J.C. Penney Company Earnings Cheat Sheet for the First Quarter
Results: Net income for the department store rose to $64 million (28 cents/share) vs. $60 million (25 cents/share) in the same quarter a year earlier. A rise of 6.7% from the year earlier quarter.
Revenue: Rose 0.4% to $3.94 billion YoY.
Actual vs. Wall St. Expectations: JCP reported adjusted net income of of 33 cents/share. By that measure, the company beat the mean estimate of 25 cents/share. Estimates ranged from 24 cents per share to 28 cents per share.
Quoting Management: "Our ability to deliver on our objectives in the first quarter reflects the progress we are making in executing the Long Range Plan for growth we announced in April 2010," said Myron E. (Mike) Ullman, III, chairman and chief executive officer. "We are successfully implementing our merchandising initiatives, with strong gains in both our men's and women's apparel businesses. Additionally, the steps we have taken to manage our expenses position us to increase the flow-through of sales to the bottom line. We are accelerating this process through a series of initiatives across the Company to maximize operational effectiveness. We expect these ongoing actions will result in substantial expense savings, beginning this year, and allow us to significantly accelerate profitability."
Key Stats: Revenue has now gone up for three straight quarters. In fourth quarter of the last fiscal year, revenue rose 2.8% to $5.7 billion while the figure rose 0.2% in third quarter of the last fiscal year from the year earlier.
Competitors to Watch: Sears Holdings Corporation (NASDAQ:SHLD), Saks Incorporated (NYSE:SKS), Macy's, Inc. (NYSE:M), Kohl's Corporation (NYSE:KSS), The Bon-Ton Stores, Inc. (NASDAQ:BONT), Dillard's, Inc. (NYSE:DDS), Nordstrom, Inc. (NYSE:JWN), Overstock.com, Inc. (NASDAQ:OSTK), Wal-Mart Stores, Inc. (NYSE:WMT), Nordtstrom (NYSE:JWN), The TJX Companies (NYSE:TJX), Ross Stores (NASDAQ:ROST) and Target Corporation (NYSE:TGT).
Stock Performance: Shares of JCP are up over 5% from the previous close of $38.44.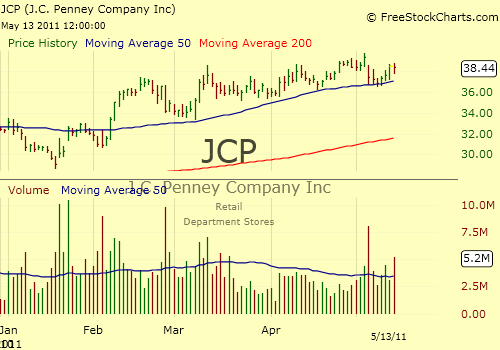 Don't Miss Wall St. Cheat Sheet's newest Feature Trades of the Month!