J.C. Penney Gets Court Respite and 2 More Heavily Traded Stocks
J.C. Penney & Co. (NYSE:JCP): Closing price $14.50
A New York State Supreme Court judge ruled on Friday that J.C. Penney can sell some goods designed by Martha Stewart that were meant for shelves this spring for now, says Reuters. Rival department store chain Macy's (NYSE:M) had tried to disallow Penney's from selling some items designed by Martha Stewart under the name JCP Everyday. Macy's has an exclusive deal with Martha Stewart Living Omnimedia (NYSE:MSO) through which to sell some categories of items under the Martha Stewart name. This ruling permits Penney's to sell the items, which are labeled JCP Everyday and do not carry the Stewart name, until the lawsuit is fully decided. However, in a statement Macy's said that it will appeal the ruling.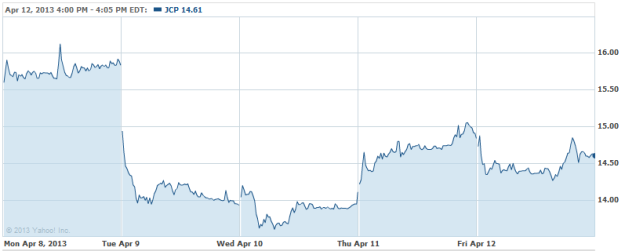 Ford Motor Company  (NYSE:F): Closing price $13.53
On Thursday, Ford said that it will introduce a 1.5-liter version of its turbo-charged "EcoBoost" engine in April. The new four-cylinder version will initially be included in a the Mondeo sedan to be sold in China. The smaller EcoBoost engine in the Mondeo will enable Chinese consumers to be eligible for a tax break when buying the car, according to Raj Nair, chief of product development for Ford. Back in 2009, Ford debuted EcoBoost, which gives smaller engines the power of bigger ones, while lowering fuel use through turbocharging, direct fuel injection and variable valve timing. The Mondeo with the 1.5-liter EcoBoost engine will be launched at an auto show in Shanghai later in April.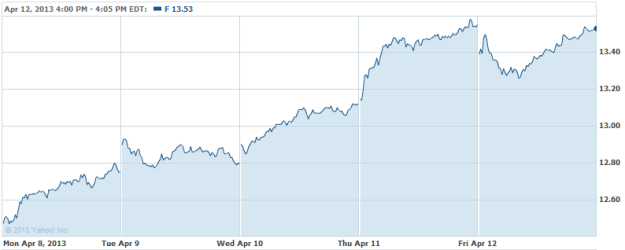 BlackBerry (NASDAQ:BBRY): Closing price $13.63
BlackBerry will request that securities regulators in Canada and the United States investigate what it said is a "false and misleading" report that consumer return rates for its new Z10 smartphone have been high, according to Reuters. The firm has banked its turnaround hopes on its new BlackBerry 10 line of smartphones, and went on the offensive on Friday subsequent to the report from the research and investment firm Detwiler Fenton, which sent its stock tumbling on Thursday. Beyond that, BlackBerry said that return rates for its flagship Z10 devices have been at, or below, its forecasts and in-line with industry norms.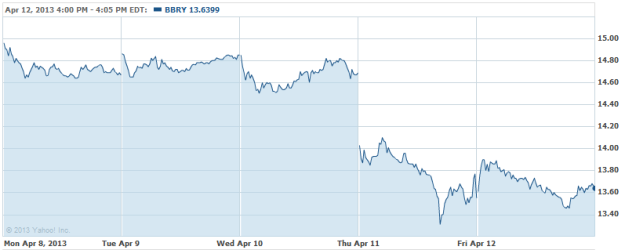 Don't Miss: Will Retail Sales Bring the Economy to a Screeching Halt?