J.C. Penney: In Trouble or Falling into Hot Water?
"Morale is probably better than it should be," J.C. Penney (NYSE:JCP) Chief Executive Officer Myron "Mike" Ullman told The Dallas Morning News in a recent interview, referring to the employees of the 111-year-old department chain. The same cannot really be said for the company's investors, who have bid shares of the retailer down about 58 percent this year through Friday's close and 68 percent in the past twelve months. The $4 billion in revenues that the company lost in the last calendar year has been the weight bearing down on shareholders and executives alike.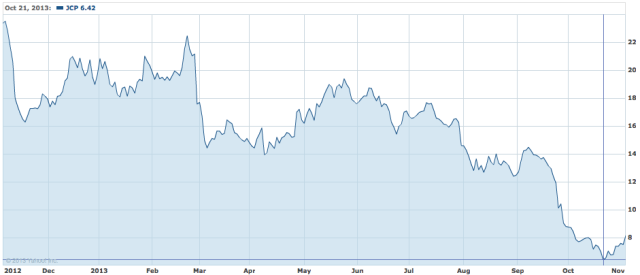 In order to steer J.C. Penney away from its image as a discounter, former Chief Executive Officer Ron Johnson believed that the department store chain needed to offer consumers more upscale products rather than the company's traditional private labels that were created in-house, even though these items created a much more profitable business with higher margins.
He transformed the company's pricing structure so that it reflected "everyday low prices" and launched a plan to organize the retailer's floor space into a cluster of small designer boutiques in an attempt to revitalize the company's business. Johnson's idea was to build a new department store for middle-income America, but the results of these changes were an even worse financial situation as customers fled in droves. Ullman was brought back after Johnson, with corporate thinking that he better understood the retailer's core customer base, even though some have argued he has a much less defined vision of what the company's direction should be than his predecessor.
Even though revenue dipped for the ninth consecutive quarter and the company's quarterly loss widened, the company's same-stores sales decline slowed in the second quarter — the first complete quarter of Ullman's tenure. That same-store sales are on an upward trajectory gave some support to the strategies of the new CEO, who decided to use more more coupons and more promotions than Johnson. Analysts took the improving same-store sales — a key measure of retail health — as a sign of life. Yet in September came two warnings, warnings of worse-than-expected back-to-school sales and a need for more financing that ran contrary to the nascent turnaround narrative that investors had begun to believe after second quarter results were released on August 20.
At an industry conference in New York last week, Ullman reassured investors for the third time in less than five weeks that sales trends were improving and he also reaffirmed the company's forecast for a rise in third-quarter same-store sales. That news sent shares up 6 percent. "Penney's had 400 days going in one direction. Now we've had 200 days going the other direction," he said.
"If we had two things [wrong] and we couldn't fix them, we'd be in trouble. We have 30 things wrong. They can all be fixed, and we have the time to fix them." Strengthening J.C. Penney's finances — including restoring coupons, restoring the confidence of its vendors, and bring back core private brands such as St. John's Bay — along with an attempt to woo back the key customer base, are all part of Ullman's agenda.
Similarly, JPMorgan analyst Matthew Boss believes that the retailer is turning a corner — although the reversal is expected to come in the fourth quarter rather than the third quarter. In a research note seen by TheStreet, he described a "Santa's Rally" for J.C. Penney. He expects to see a positive inflection in newsflow and stabilization in the second half of October. The retailer will then be able improve revenue and boost margins in November and December. Therefore, he calculated that third-quarter comparable same-store sales will decline 4.4 percent but October's comparable same-store sales will turn positive for the first time since 2011. In comparison, same-store sales dropped 11.9 percent in the second quarter and declined 16.6 percent in the first quarter.
Follow Meghan on Twitter @MFoley_WSCS
Don't Miss: Wal-Mart Fires First in iPad Air Discount Battle.