J. C. Penney: Inspections Required to be a Supplier from Bangladesh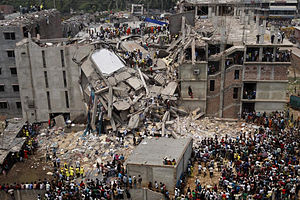 The Rana Plaza factory collapse in Bangladesh has spurred American retailer J. C. Penney Company (NYSE:JCP) to action. "We're going to require structural and engineering inspections in countries that have that kind of risk [building collapse]," a J. C. Penney company executive said via the Wall Street Journal. However, the struggling retailer will not be signing the Accord on Fire and Building Safety in Bangladesh – a legally binding document — anytime soon.
The tragedy outside of Dhaka, Bangladesh took more than 1,100 lives and focused the national spotlight on retailers that source their garments from unsafe factories in third-world countries. Wal-Mart Stores Inc. (NYSE:WMT) employed a contractor that used the Rana Plaza in 2012 but maintains that "Our [Wal-Mart's] investigation of the Rana Plaza building site after the collapse revealed no evidence of authorized or unauthorized production at the time of the tragedy," the Washington Post reported.
The accord that both J. C. Penney and Wal-Mart are not signing is essentially an agreement between the retailers and unions — both international and national. It would require independent inspections of production facilities and report its finding publicly, according to the Consumerist. So far, few companies based in the U.S. have signed the accord, including PVH Corp. (NYSE:PVH) — the parent company of the Tommy Hilfiger and Calvin Klein brands.
Wal-Mart is taking a similar path to J. C. Penney in not signing the accord but performing safety audits its suppliers. The company will use an outside inspector to perform the audits. The company has already posted a list online of 200 companies it has stopped working with, according to the Consumerist. Why are both Wal-Mart and J.C. Penney against the Accord on Fire and Building Safety in Bangladesh? It would require them to help pay for repairs to buildings that do not meet safety requirements. Their own, independent safety audits will allow them to simply stop working with companies that have unsafe working conditions.
J. C. Penny is struggling to keep itself afloat in a retail market that has changed drastically since it was founded in 1902 by James Cash Penney. The company has long been mature and unless it can finds its way, could be headed towards a long-term decline. The company is essentially a department store — a dying breed of retail format.
Investing Insights: Does J.C. Penney Have Good Upside Potential?