J.C. Penney Investors Run as Analysts Warn of Bankruptcy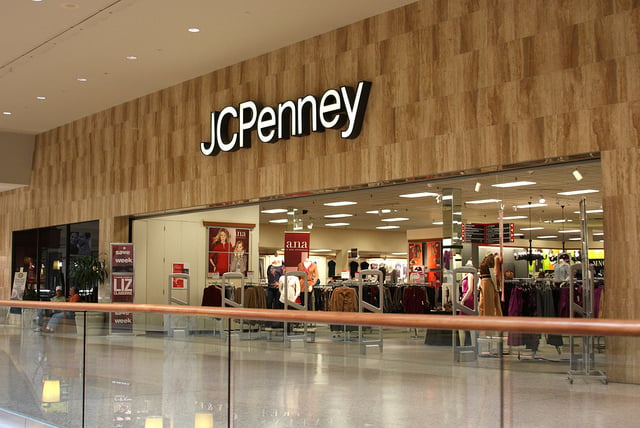 A brief glance at J.C. Penney's (NYSE:JCP) stock chart shows that investors are spooked.
Shares of the once iconic department store chain's stock hit a 13-year low of $10.22 on Wednesday. The 15 percent plunge, which even took shares briefly below the $10 mark, was precipitated by two warnings: Analysts have predicted that sales did not pick up during the important back-to-school shopping season at the end of August and the beginning of September, and recent reports have indicated that J.C. Penney needs to raise more cash.
Both the rumors of worse-than-expected sales results and the company's need for more financing run contrary to the turnaround narrative that investors had begun to believe after second-quarter results were released on August 20. Shares took off on a small rally at the end of last month, inching close to $14.50 per share in the second week of September. Now, any upward momentum is gone.
Even though revenue dipped for the ninth consecutive quarter and the company's quarterly loss widened, same-stores sales decline slowed in the second quarter, dropping just 11.9 percent compared to the first quarter's 16.6 percent decrease. That metric also improved each month during the second quarter, a pattern J.C. Penney said it expected to continue into the current quarter.
That same-store sales are on an upward trajectory gave some support to the strategies of CEO Mike Ullman, who decided to use more coupons and promotions than his predecessor Ron Johnson. Analysts took the improving same-store sales — a key measure of retail health — as a sign of life. Belus Capital Advisors chief equities strategist Brian Sozzi told CNN that Ullman had done a good job of selling the turnaround story. "They have a lot more to do, but they threw us a couple bones that confirm they're not going out of business tomorrow," he added.
Even then, it was obvious that the retailer would have to slow down its cash burn rate. Early last month, JPMorgan Chase's Matthew Boss told Bloomberg that J.C. Penney was running through so much cash that it would likely have to source more outside funds by the end of the year.
But in the second-quarter earnings release, the company said that given its "current cash position, along with the undrawn portion of its credit facility, the Company expects to end the year with in excess of $1.5 billion in overall liquidity," including $1.2 billion in cash and $300 million available in its revolver. In a conference call with analysts last month, J.C. Penney executives repeated that they would not need to raise more cash anytime soon.
Nevertheless, as Macquarie Group analyst Liz Dunn pointed out after earnings were released, "things really need to turn quickly in the third quarter" based on J.C. Penney's use of cash so far this year. While some analysts have seen signs of life in the company's marginally better same-store sales, J.C. Penney will still have to work its way back from the $1.6 billion in losses it has racked up so far this year. Complicating the turnaround effort is the fact that J.C. Penney may not be as liquid as executives have maintained.
A recent report from Goldman Sachs indicates that J.C. Penny's cash situation is actually quite dire, and things do not seem to be turning around this quarter. Cleveland Research said that the third quarter looks "more difficult than initially expected." The return to a promotion and coupon-based pricing strategy does not appear to be generating better sales or more store visits, the firm noted in a research note seen by Bloomberg.
Three years ago, activist investor Ackman poured $1 billion into the company, and former CEO Ron Johnson, who oversaw operations for about 15 months beginning at the end of 2011, contributed $50 million; still, J.C. Penney reported its lowest annual sales since at least 1987 in February. That result proved, as The Dallas Morning News's Mitchell Schnurman explained, that "writing big checks doesn't qualify you to reinvent a retailer."
Johnson, the former Apple executive who was hand-picked by board member and largest shareholder Ackman, led the company to a 25 percent plunge in revenues, a 50 percent decline in stock price, and a 13 percent drop in customer traffic — solid proof that the makeover he attempted to orchestrate was a failure.
In addition to all the cash Ackman and Johnson pumped into the company, Goldman Sachs arranged a $2.25 billion loan earlier this year. That J.C. Penney now has a liquidity problem, as the Goldman analysis indicated, suggests that the retailer is continuing to burn through its cash reserves as losses continue to increase. Burning through cash is an early sign of trouble. Continuing to raise capital to offset cash burn means even more trouble: it only adds to a company's debt burden. Now, J.C. Penney is looking to raise as much as $1 billion in capital.
The liquidity problem is why Goldman Sachs analysts downgraded the company's shares on Tuesday. "Weak fundamentals, inventory rebuilding, and an underperforming home department will likely challenge J.C. Penney's liquidity levels in the third quarter," wrote analyst Kristen McDuffy in a note seen by Bloomberg. "In order to safeguard against a potentially poor fourth-quarter holiday season, it is likely that management will look to build a bigger liquidity buffer." The note even questioned the company's future prospects, suggesting that a bankruptcy filing is a possibility.
UBS analysts calculated that operations will consume $1.1 billion in cash in the first three quarters of fiscal 2014, meaning the company will need to raise funds to stabilize its short- and medium-term cash position. Borrowing that amount at a 6.5 percent rate would add $65 million of additional expense to J.C. Penney's fixed costs. Plus, UBS expects the retailer to burn through $550 million.
To get operations back on track, J.C. Penney has to woo back its traditional customer base that Johnson scared away with his transformation of the company's pricing structure and his focus on younger, wealthier consumers; the retail must also engineer its turnaround in the face of increased "competition from mid-tier department stores and discount retailers," as Goldman's analyst indicated. Despite the tough economy, retailers from Target (NYSE:TGT) to Kohl's (NYSE:KSS) to Macy's (NYSE:M) have outperformed J.C. Penney this year.
Follow Meghan on Twitter @MFoley_WSCS
Don't Miss: Is Wal-Mart Facing Inventory Pile-Up Problems?