J.C. Penney Makes Big Gains on This Consumer Index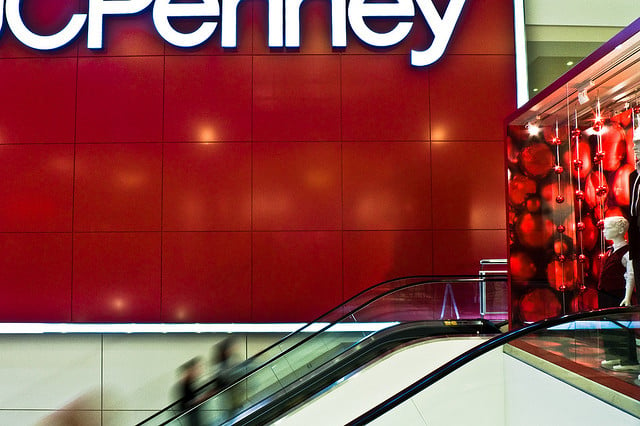 After hitting what appeared to be rock-bottom, J.C. Penney (NYSE:JCP) has take a step down the road to recovery. According to an influential consumer index, the company is getting better marks in overall perception, showing its strategy of contrition and return to old, familiar ways might bring the results Penney hoped for.
In early May, J.C. Penney posted a video that acknowledged its many mistakes in the Ron Johnson era and promised to listen to what its customers wanted. Several weeks later, the company thanked its loyal followers for returning even though it wasn't clear they did. Regardless, the efforts made to change the negative perception are working, as the YouGov BrandIndex scores put J.C. Penney in the top 10 of gainers in  May. From a basement score of 2 at April's close, Penney vaulted back to a score of 8 by the end of May, and is currently cruising at 7. Competitors like Walmart (NYSE:WMT) rate scores of 9.
The BrandIndex Buzz score simply takes the temperature of consumer sentiment, posing questions to survey responders about what they've heard about a brand, how it makes them feel, and whether each bit of "buzz" was favorable or not. J.C. Penney clearly made some headway with its apology and is convincing customers it deserves another chance. Women over the age of 18 led the pack of those who believe Penney can make good on its promises. Still, the BrandIndex is not a sales tracker, leading some industry analysts to believe more results are necessary.
"The only surveys that count are those that ring the cash register," opined Rob Frankel, a marketing consultant who spoke to MarketWatch. Frankel pointed to the dismal sales report from the first quarter of 2013 and the steep uphill climb J.C. Penney faces in the aftermath of Ron Johnson's failures atop the company.
However, CEO Mike Ullman's second stint with J.C. Penney is already leading investors to express optimism. Shares have rallied in the past month for a 14 percent gain, and analysts have started upgrading the stock, with several predicting good things for the venerable retailer. Is it enough to bring J.C. Penney back? Better perception is a positive step, but better sales would make believers out of everyone.
Don't Miss: Wal-Mart Mess: Can the Corporate Claw Reign in Bad Behavior?