J.C. Penney Sales Growth Pleases Investors But Not Analysts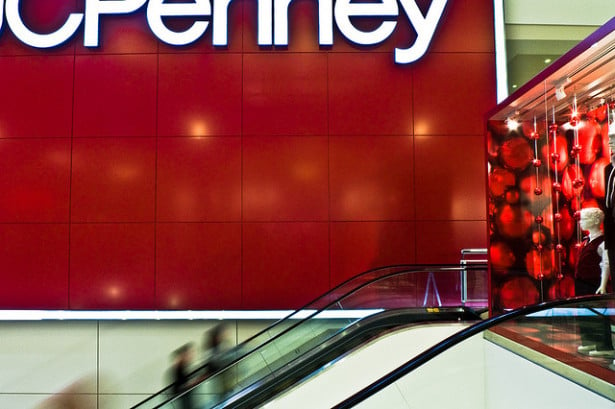 A 0.9 percent increase may seem like a nearly negligible uptick in same-store sales for most retailers, but J.C. Penny Co. (NYSE:JCP) is not like most retailers. In 2012, revenue plunged 25 percent, customer traffic dropped 13 percent, and the company's stock price fell 50 percent.
That 0.9 percent growth was the retailer's first month-over-month increase in almost two years. So October's increase in same-store sales — a key measure of retailer strength — was a welcome life raft and a sign that the change in strategic direction employed by retailer's management had begun to show fruits. To J.C. Penney, it is evidence that the company has made "meaningful progress in its turnaround" and "significant progress in addressing the challenges it faces."
As CEO Mike Ullman told investors in a Thursday note, management believes the company is on "the right track to return to long-term profitable growth," especially since the sales growth came "despite the federal government shutdown and a challenging consumer environment." The growth was attribute to higher sales in menswear, women's accessories, and home goods.
In particular, the strength in home goods showed evidence of changes in company's business tactics. The retailer was once the go-to place for home products like bath towels and window treatments; former CEO Ron Johnson's plan to redesign J.C. Penney into a cluster of approximately 100 boutiques was his strategy to recapture that reputation. The home goods department was a good place to begin revitalizing the company.
Home products are an important draw for department store shoppers, and J.C. Penney's years of neglect in that segment and its uninspired products pushed many customers into the arms of its rivals. Company sales illustrate this migration: Last year, the home product category accounted for 12 percent of J.C. Penney's sales, compared to 21 percent six years earlier. But in October, home goods had the largest percentage sales increase among all the merchandise divisions. Online, sales grew more than 50 percent and represented almost half of the month's Internet sales.
The key to the improving sales, according to Ullman, is the success the company has had at "reconnecting" with its customer base.
Slowly improving same-store sales gave J.C. Penney investors a measure of confidence last quarter. That J.C. Penney's quarterly loss widened from the year-ago quarter and that its revenue declined for the ninth consecutive quarter was proof that the retailer was still shaking off the vestiges of the ill-fated makeover implemented by Johnson.
To rid the company of the lingering effects of Johnson's plans and attract J.C. Penney's core customer base once again, Ullman slowly tried to return the retailer back to its old self, at least enough to appeal to middle-market customers. Last quarter's earnings report showed that the key metric dropped just 11.9 percent compared to the first quarter's 16.6 percent decline.
The problem is that J.C. Penney's aggressive return to discounts and couponing — a marked change from Johnson's attempt to implement "everyday low prices" — and clearing merchandise hurt the company's margins. Although gross margin did show sequential improvement within the third quarter, sequential improvement did little to help profitability, according to analysts.
"Although JC Penney continues to stress that trends in sales are heading in the right direction, there remains a little overlooked aspect to the entire newfound 'bull' opinion on the stock," wrote Belus Capital Advisors retail analyst Brian Sozzi in a research note acquired by Barron's.
"Mentions of profits are non-existent, as is further color on the 3Q13 cash burn rate," Sozzi said. "I believe receiving factual numbers on each topic are required in order to think that JC Penney will win the 'Comeback Kid of 2014' in the stock market; for the time being it's apparent that a gross margin still under intense pressure from two angles (lower margins on clearance merchandise and increased promotional events) are what's driving the profound sales rebound, therefore constraining profit potential and maintaining caution on the liquidity of the company."
Less than two weeks ago, investors were bidding shares of J.C. Penney to new lows, worried that the company had little in store. Of particular concern were sales and cash burn. In late October, ratings firm Fitch predicted trouble for the company's finances, projecting a free cash flow shortfall in 2014 that "will require additional external funding," even though more than $3 billion worth of liquidity has been injected so far this year.
Because shares of J.C. Penney's beleaguered stock have plummeted over the past three months, the word most often following any mention of the century-old department store chain is bankruptcy, or at least a whisper of bankruptcy. Bankruptcy talk began at the end of September, after Goldman Sachs analysts downgraded the company's shares based on worries of a growing liquidity problem.
Emerging data indicated that the company had posted worse-than-expected sales during the back-to-school shopping season. That plus rumors of the company's need for more financing ran contrary to the nascent turnaround narrative that investors had begun to believe after second-quarter results.
J.C. Penney will announce full fiscal third-quarter results before the opening bell on November 20, which will give investors more information than just whispers. Following Thursday's same-store sales announcement, shares were trading up 56 cents, or 7.27 percent, at $8.26 — a strong gain for a stock that has lost around 60 percent of its value this year through Wednesday and around 67 percent in the past 12 months.
Follow Meghan on Twitter @MFoley_WSCS
Don't Miss: Oops, Christmas Came Early for These Wal-Mart Shoppers.