J.C. Penney Scores a Hit In Legal Battle with Macy's
While it has been a tough week for J.C. Penney (NYSE:JCP) — its Chief Executive Officer Ron Johnson was replaced with his predecessor after the board tired of waiting for his turnaround efforts to show fruit — the company did receive one piece of good news. A New York judge gave the retailer permission to sell home goods designed by Martha Stewart as long as they were sold under the "JCP Everyday" label.
Meanwhile the trial will continue. Last year, Macy's (NYSE:M) sued both J.C. Penney and Martha Stewart Living Omnimedia (NYSE:MSO), alleging that J.C. Penney's deal to create a home goods boutique with Martha Stewart, announced in December 2011, violated its exclusive right to sell Martha Stewart Living products. Justice Jeffrey Oing has already blocked J.C. Penney from selling items like bath towels and tableware under the Martha Stewart label, but Friday he refused to expand the injunction Macy's had requested.
On Wednesday the courtroom battle came down to a simple plastic pitcher. Macy's lawyer Michael Platt set two plastic pitchers on the bench in front of the presiding judge, Justice Jeffrey Oing of Manhattan's New York state Supreme Court, reported Reuters. Platt urged the judge to pick up both pitchers. "They are both made of plastic," he stated, according to the publication. "They both weigh about the same." But one pitcher was from Macy's Martha Stewart Collection, he said, and the other was from J.C Penney's label, Martha Stewart Celebrations. Platt launched the demonstration with the aim of having Oing order J.C. Penney to remove the pitcher from its shelves even though the item was marked with a different label.
Former J.C. Penney Chief Executive Officer Ron Johnson was charged with transforming the retailer when he joined the company last year, but his efforts to steer J.C. Penney away from its image as a discounter contributed to a 13 percent drop in customer traffic and a 25 percent fall in revenues in fiscal 2012. Once the retailer was the go-to place for home products like bath towels and window treatments, and, with his plan to redesign J.C. Penney into a cluster of approximately 100 boutiques, Johnson was aiming to recapture that reputation…
But Johnson was ousted on Monday, and now it is uncertain whether his successor will abandon his vision…
However, the company's efforts to improve its selection of home goods is worthwhile. Home products are an important draw for department store shoppers, and so J.C. Penney's years of neglect in that segment and its uninspired products have pushed many customers into the arms of its rivals. Its sales illustrate this migration; last year, the home product category accounted for 12 percent of Penney's sales, compared to 21 percent six years earlier. In addition, sales per square foot in its home products department fell by more than half in that same period. In 2008, the retailer's $3.7 billion in home products sales came in just below those of Macy's, but last year they amounted to just about one third.
Last week the company launched its first new home goods boutique, a launch that even Johnson termed "pivotal" to his efforts to turnaround the company's business. But a heavy cloud still hangs over the company. Sources told The Wall Street Journal that J.C. Penney has hired Blackstone Group's (NYSE:BX) financial advisory arm to explore how best to position the firm financially. While the retailer's largest investor has said shareholders are willing to put up more capital, the prospect of financial banking is likely to soothe investors to some degree. According to the publication, J.C. Penney is seeking $1 billion in cash to shore up its quickly-disappearing stockpile.
Shares of J.C. Penney ended the week down 5.37 percent at $14.62, and so far this year, shares have lost close to 26 percent of their value.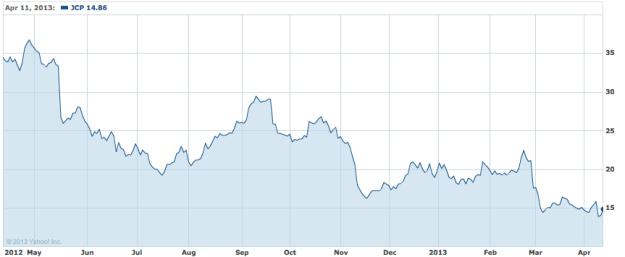 Don't Miss: Will Retail Sales Bring the Economy to a Screeching Halt?