J.C. Penney's Rebound Continues and 2 Hot Stocks Trading Heavily on Friday
J.C. Penney (NYSE:JCP) is recovering from 52-week lows, jumping 4.5 percent by close on Thursday and continuing that trend today, up as much as 6.8 percent this morning and leading the S&P 500′s gains. Shares are now trading above $16 for the first time since March 21. The stock is now up roughly 6.5 percent for the week after falling 23 percent in the first three months of the year.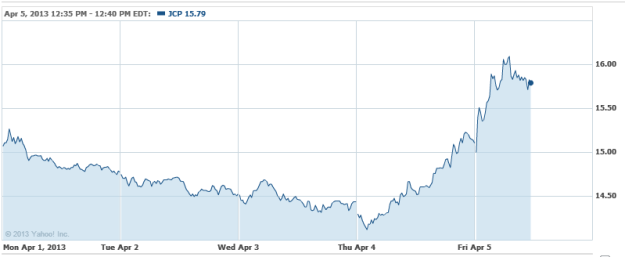 Microsoft (NASDAQ:MSFT) is out like white pants after Labor Day, according to Gartner. The firm sounded a warning on the company and the stock in a note published Wednesday predicting the PC market will continue to shrink over the next five years, weakened by the burgeoning tablet market, which could add six new devices for every laptop or desktop the PC industry loses. Though PCs won't disappear quickly — they're still staples of the workplace — consumers are switching in droves to tablets for their home computing needs. Gartner predicts over 270 million PC units will be shipped in 2013, down 20.4 percent from 2012′s disappointing 341 million, but still a large enough number to keep the industry alive — for now. However, the report shows that Microsoft is in a particularly bad spot — whereas Apple is better positioned — and will be hit with the lion's share of losses.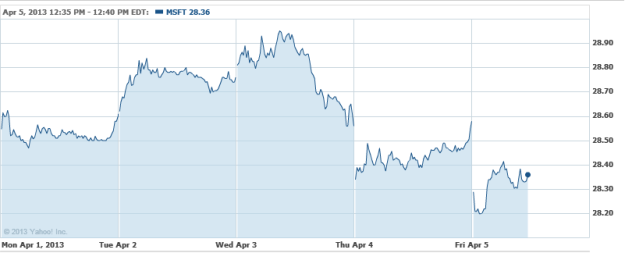 Alcoa (NYSE:AA) will kick off earnings season on Monday, and is trading down today as investors try to figure out whether they'll be dealt a win, or a reality check. Given the current state of the aluminum industry, the first-quarter report could go either way. Low prices could be dragging on business, but when comparing Alcoa's current share price to historical norms, the stock is pretty cheap right now, which means it still might be a good buy. However, it's still not clear when or even if aluminum prices are going to pick back up. Placing a bet on Alcoa is a risk that may or may not pay off in the end, but will certainly require some patience, as investors expect the January through March quarter to show fairly flat earnings, with revenue expected to decline slightly.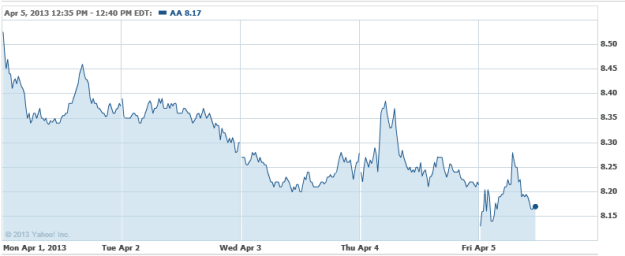 Don't Miss: Sponsored: HP Satisfies Business Owners' Need for Speed.