Jabil Circuit Inc. Earnings Cheat Sheet: Revenue Strengthens Again by Double-Digits
S&P 500 (NYSE:SPY) component Jabil Circuit Inc. (NYSE:JBL) reported higher profit for the third quarter as revenue showed growth. Jabil Circuit Inc. is an independent provider of electronic manufacturing services and solutions. It is engaged in the design, production of electronics, and it offers product management and aftermarket services to companies in a wide range of industries, such as the aerospace, defense, medical and telecommunications sectors.
Don't Miss: Wall St. Cheat Sheet's newest Feature Trades of the Month!
Jabil Circuit Earnings Cheat Sheet for the Third Quarter
Results: Net income for Jabil Circuit Inc. rose to $104.7 million (47 cents/share) vs. $52 million (24 cents/share) in the same quarter a year earlier. A more than twofold rise from the year earlier quarter.
Revenue: Rose 22.3% to $4.23 billion YoY.
Actual vs. Wall St. Expectations: JBL reported adjusted net income of 58 cents per share. By that measure, the company beat the mean analyst estimate of 57 cents/share. Estimates ranged from 54 cents per share to 58 cents per share. It beat the average revenue estimate of $4.14 billion.
Quoting Management: "Revenue growth was stronger than expected for our third quarter," said Timothy L. Main, President and CEO of Jabil. "We are pleased to demonstrate continued growth above our long-term targets. As a result, Jabil is poised to deliver record revenue and earnings in fiscal 2011."
Key Stats:
The company has enjoyed double-digit year-over-year revenue growth for the past five quarters. Over that span, the company has averaged growth of 31.1%, with the biggest boost coming in the fourth quarter of the last fiscal year when revenue rose 37.9% from the year earlier quarter.
The company's cost of sales rose 22.4% from a year earlier. Last quarter, cost of sales was 92.5% of revenue, similar to a year earlier.
Competitors to Watch: Sanmina-SCI Corporation (NASDAQ:SANM), Benchmark Electronics, Inc. (NYSE:BHE), Kimball International (NASDAQ:KBALB), Plexus Corp. (NASDAQ:PLXS), Celestica Inc. (NYSE:CLS), SigmaTron International (NASDAQ:SGMA), SMTC Corporation (NASDAQ:SMTX), CTS Corporation (NYSE:CTS), Flextronics Intl. Ltd. (NASDAQ:FLEX), and Sparton Corporation (NYSE:SPA).
Stock Performance: Shares of JBL are down .21% after hours.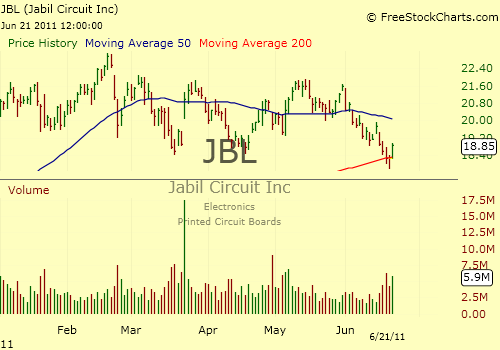 Don't Miss Wall St. Cheat Sheet's newest Feature Trades of the Month!
(Source: Xignite Financials)