Jack In The Box Inc. Earnings Cheat Sheet: Below Analysts' Estimates
Jack In The Box Inc. (NASDAQ:JACK) reported its results for the second quarter. Jack in the Box Inc. owns, operates and franchises quick-service restaurants and Qdoba Mexican Grill fast-casual restaurants.
Don't Miss: Wall St. Cheat Sheet's newest Feature Trades of the Month!
Jack In The Box Earnings Cheat Sheet for the Second Quarter
Results: Net income for Jack In The Box Inc. fell to $6.8 million (13 cents/share) vs. $17.7 million (32 cents/share) a year earlier. A decline of 61.5% from the year earlier quarter.
Revenue: Fell 4.6% to $505.1 million YoY.
Actual vs. Wall St. Expectations: JACK reported adjusted net income of of 12 cents/share. By that measure, the company fell short of mean estimate of 21 cents/share. Estimates ranged from 15 cents per share to 36 cents per share.
Quoting Management: Linda A. Lang, chairman, chief executive officer and president, said, "Jack in the Box company same-store sales increased 0.8 percent in the second quarter, ahead of our expectations, as sales and traffic rebounded after severe weather impacted many of our major markets in the first four weeks of the quarter. On a two-year basis, we're continuing to see sequential improvement in same-store sales with three consecutive quarters of improving trends. We believe the investments we have made in the business to enhance the entire guest experience, along with employment growth, will drive improved sales results at the Jack in the Box brand."
Key Stats:
The decrease in profit last quarter comes after net income rose in the previous quarter. In the fourth quarter of the last fiscal year, net income rose 33.6% to $4 million.
Revenue has fallen in the past two quarters. In first quarter, revenue declined 2.4% to $664.7 million from the year earlier quarter.
Competitors to Watch: McDonald's Corporation (NYSE:MCD), Good Times Restaurants Inc. (NASDAQ:GTIMD), Yum! Brands, Inc. (NYSE:YUM), Carrols Restaurant Group, Inc. (NASDAQ:TAST), Sonic Corporation (NASDAQ:SONC), Wendy's Arby's Group Inc. (NYSE:WEN), Chipotle (NYSE:CMG), Panera (NASDAQ:PNRA), Ruby Tuesday, Inc. (NYSE:RT), Panera Bread Company (NASDAQ:PNRA), and Starbucks Corporation (NASDAQ:SBUX).
Stock Performance: Shares of JACK are up .81% after hours.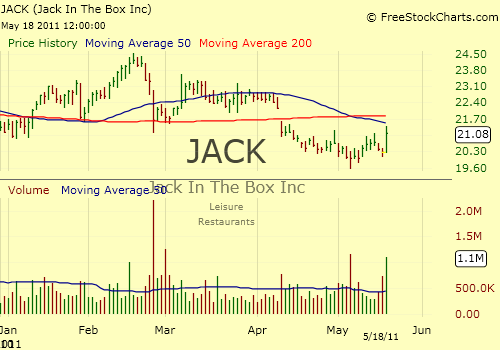 Don't Miss Wall St. Cheat Sheet's newest Feature Trades of the Month!