Jamie Dimon's Payout and All the Top Mega-Financial Stock Stories of the Week
Here's your Cheat Sheet to this week's top financial industry business headlines:
With the due date here for annual IRS filings, American taxpayers were given an insult to add to their injury. Lloyd Blankfein, chief executive of Goldman Sachs (NYSE:GS), has become the world's best-compensated banker. Between a $2 million salary, over $13 million in restricted shares and a healthy $5.7 million bonus, Blankfein will reel in $21 million for his 2012 performance.
While Blankfein often gets in the news for his outspoken nature, Goldman's board was clearly enamored with the chief executives' efforts on behalf of the TARP-fueled bank, which received a bailout of $10 billion in 2008. Blankfein, who received $12 million in compensation in 2011, notched a 75 percent raise. Goldman President and COO Gary Cohn received $19 million in 2012, as did CFO David Viniar.
Second and third place on the Goldman compensation chain nearly equals the highest executive pay at every other bank. In comparison, Wells Fargo (NYSE:WFC) CEO John Stumpf was awarded $19.3 million for 2012. Behind the jumps in compensation for Goldman are impressive profit reports. Goldman brought in a $7.5 billion profit in 2012, which doubled the bank's number for 2011. The chief executives of the world's other biggest banks made considerably less in 2012.
JPMorgan (NYSE:JPM) CEO Jamie Dimon received $11.5 million for his 2012 performance, significantly lower than three executives at his company. Dimon's handling of the London Whale fiasco clearly weighed on the board's calculation of his share. Meanwhile, Citigroup (NYSE:C) paid its chief executive $11.5 million, matching the Dimon figure. Bank of America (NYSE:BAC) also paid CEO Brian Moynihan on this scale, at $12 million.
Public perception of Goldman has improved little in the years following the bailout, when negative articles about the company flooded the Internet and cable news coverage. Yet the performance of Goldman speaks volumes about the stewardship of Blankfein, as well as the other top executives at the company. Goldman, which is the country's fifth-largest bank by assets, had revenues in excess of $34 billion in 2012. While the Goldman board noted in its SEC filing that no specific goals were used to calculate executive compensation, the pay was meant to reward both performance and position within the company.
Don't Miss: Here's What Obama's Tax Return Looks Like.
After the recession disrupted every facet of the U.S. economy, analysts have waited for the return of positive indicators. According to one train of thought, real growth will appear on the horizon when banks begin lending at pre-recession levels. Friday earnings reports of JPMorgan (NYSE:JPM) and Wells Fargo (NYSE:WFC) suggested that day has yet to arrive, leading observers to wonder whether the biggest banks can drive the comeback.
Overall, earnings were up at both banks, though revenues declined slightly. JPMorgan posted a 33 percent increase ($1.59 per share), while Wells Fargo showed a 22 percent jump in earnings over the first quarter of 2013 ($o.92 a share). Both figures exceeded industry expectations and calmed fears that the banking giants were going to disappoint investors (shares dipped slightly by the end of Friday's trading).
Yet the drop in revenues were attributed to a slowdown in the mortgage business. Government incentives (via attractive refinancing terms) had fueled the latest round of profits from mortgages. JPMorgan CEO Jamie Dimon suggested that terms were too strict to encourage borrowers — and that qualified candidates were not being approved. Nonetheless, Dimon forecast a period of growth ahead, saying that "new home purchases are starting to come back." How much the big banks are willing to drive that trend is another story…
John Stumpf, Wells Fargo's chief executive, agreed that the most activity was in credit card and car loans. Stumpf predicted that "you will see different loan categories [i.e. mortgages] start to grow" in the coming quarter. Neither Stumpf nor Dimon presented a strategy suggesting they had plans in place to increase mortgage business.
Unfortunately, that would keep the burden on government initiatives. The Federal Housing Finance Agency will try to increase awareness of borrower options via the Home Affordable Refinance Program. Analysts are skeptical that the efforts of HARP will succeed where the banking sector has not, yet there are negative connotations connecting the biggest banks and the mortgage industry. Bank of America (NYSE:BAC), for example, has been bruised over its consumer mortgage business. The big U.S. banks will need to overcome that weakness to increase profitability.
Don't Miss: Taxpayer Bailout Blues: Goldman Sachs CEO World's Highest Paid Banker.
American Express Company (NYSE:AXP): Current price $67.20
On Monday, American Express reported the promotion of Edward P. Gilligan to president, effective immediately. The firm's world consumer, small business, merchant, network, risk, and banking groups will continue to report to him. Gilligan has served as vice chairman of the company since 2007, when he was appointed head of a Business-to-Business group responsible for its relationships with merchants, corporations, and bank partners globally.
Are these stocks a buy or sell? Let us help you decide. Check out our Stock Picker Newsletter now.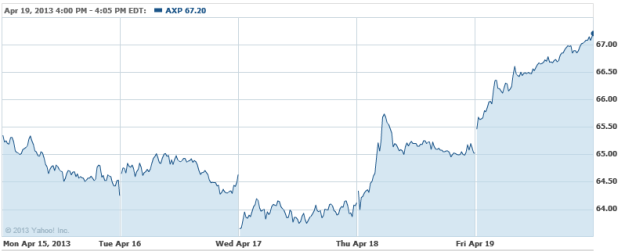 Brookfield Asset Management (NYSE:BAM): Current price $36.84
Brookfield on Monday announced the finalization of the spin-off of Brookfield Property Partners, a newly-formed entity that owns substantially all of Brookfield's commercial property assets. The spin-off was accomplished via a special dividend of units of BPY to holders of Brookfield's Class A and B limited voting shares as of the record date, March 26, 2013. Each holder of Shares received one BPY unit for approximately every 17.42 shares (roughly 0.0574 BPY units for each Share). Shareholders of Brookfield now own 35,839,414 BPY units, or 7.56 percent of BPY, and Brookfield owns the remaining 92.44 percent of BPY.

Gramercy Capital Corp. (NYSE:GKK): Current price $
Gramercy reported Monday that it has changed its name to Gramercy Property Trust Inc., and began trading under its new NYSE ticker symbol GPT. Also, the firm announced the launch of a new website: www.gptreit.com.
Don't Miss: Are the Biggest Banks Ready to Spark Home Loan Strength?
Bernie Madoff is one of the most infamous white-collar criminals in modern history. Formerly a non-executive chairman of the NASDAQ exchange, Madoff is currently serving a 150-year sentence for operating the largest Ponzi scheme in history. In 2009, he pleaded guilty to 11 accounts felony financial fraud. All told, the amount missing from client accounts, including fabricated gains, was nearly $65 billion, with actual losses to investors of about $18 billion.
Madoff has been behind bars for nearly four years now, and the magnitude of his fraud is still making waves. A person familiar with the matter tells Reuters that the Office of the Comptroller of the Currency is expected to issue a cease-and-desist order against JPMorgan (NYSE:JPM), which served as Madoff's main bank for 20 years.
To be clear, JPMorgan has not been accused of any intentional wrongdoing. The OCC's gripe with the bank is a result of the fact that it failed to perform due diligence on Madoff and detect or report suspicious activity. The cease-and-desist order would require the bank to patch the holes in its anti-money laundering unit and tighten its risk controls.
The source told Reuters that the OCC is not currently looking to impose any financial penalties on JPMorgan. The relationship between the bank and regulators has grown tense in the wake of the London Whale incident, and officials seem keen to pick and choose their battles. If JPMorgan fails to comply with the cease-and-desist in a satisfactory way, then regulators may choose to increase the pressure. Such a move would be in line with a recent crackdown on anti-money laundering practices at big banks that officials do not think are up to par.
In December, HSBC (NYSE:HBC) was fined a record $1.9 billion. The civil and criminal penalty was the result of the bank's failure to detect drug trafficking funds that were flowing from Mexico into the United States through the bank.
Investing Insights: Can JPMorgan Chase Stay in the Lead?
JPMorgan Chase & Co. (NYSE:JPM): Current price $47.31
Regulators intend to blame JPMorgan, which served as Bernie Madoff's principal bank for two decades, for not conducting sufficient due diligence and reporting suspicious activity, according to an inside source. It is anticipated that the Office of the Comptroller of the Currency will issue a cease-and-desist order against JPMorgan, which will mandate that it put a stop to the alleged failures in its anti-money laundering practices. The  order could come later in 2013, reported the source, who added that a fine is not expected. However, should the OCC not be satisfied with JPMorgan's response, it could take harsher action against the firm, including financial penalties.
Are these stocks a buy or sell? Let us help you decide. Check out our Stock Picker Newsletter now.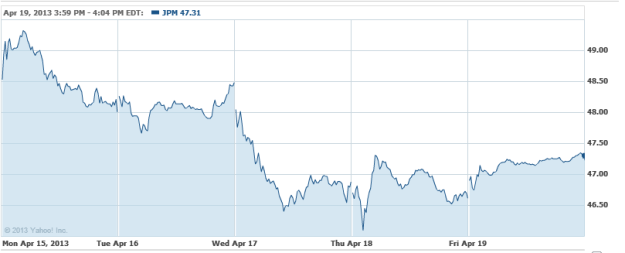 Citigroup (NYSE:C): Current price $45.04
On Monday, Citi said that it is reserving less money to cover losses on loans, a decision that analysts say heralds the bank is more and more confident about the recovery of the domestic housing market, according to MarketWatch. The firm lost billions of dollars during the 2008 financial crisis following its issuance of risky loans to subprime homeowners who subsequently failed to make payments on their mortgages, setting off a wave of foreclosures not seen since the Great Depression. At the peak of the crisis, Citigroup received $45 billion from the United States Treasury, representing the largest share of the federal government's bank bailout. As part of its latest quarterly results, Citi announced a first-quarter loan loss reserve release of $652 million, which is down 44 percent year-over-year from 2012. Citi Holdings had a net loan loss reserve release of $351 million.
Are these stocks a buy or sell? Let us help you decide. Check out our Stock Picker Newsletter now.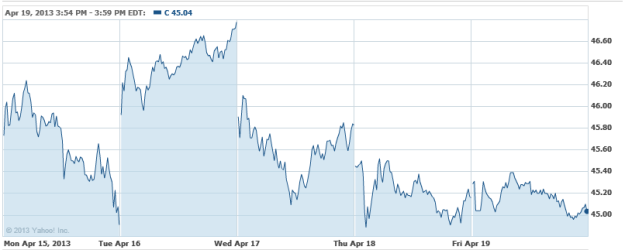 State Street Corporation (NYSE:STT): Current price $56.84
State Street Global Advisors sees its market share of the United States ETF business decline somewhat as investors withdraw funds from its two biggest funds, SPDR Gold Shares  and SPDR S&P 500. State Street was the second-largest ETF provider at the end of the first quarter, but Vanguard Group is ramping up to challenge the firm. At the end last month, State Street held $345 billion in ETF assets, or 23.5 percent of the market share.
Are these stocks a buy or sell? Let us help you decide. Check out our Stock Picker Newsletter now.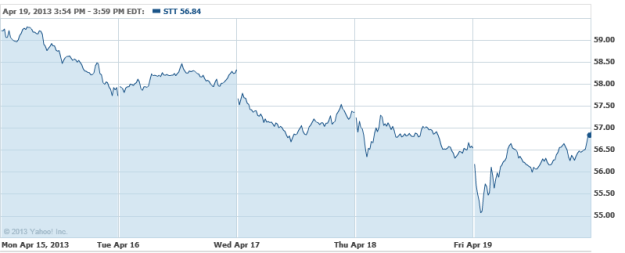 Investing Insights: Can JPMorgan Chase Stay in the Lead?
Nomura Holdings (NYSE:NMR): Current price $7.67
Shares slid the most in two weeks, following prosecutors in Italy reporting that they expect to seize 1.8 billion euros of its assets within an investigation into Banca Monte dei Paschi di Siena. The seizures are connected to allegations of fraud and usury related to Monte Paschi's utilization of derivatives to conceal losses, said prosecutors in Siena, where the Italian bank is based, in a statement. Monte Paschi alleged that Nomura colluded with its former managers to create one of two derivatives in 2008 and 2009 that hid total losses of up to 557 million euros. Nomura got a minimum of 88 million euros from the transaction, which was dubbed Alexandria, according to the Italian bank.
Are these stocks a buy or sell? Let us help you decide. Check out our Stock Picker Newsletter now.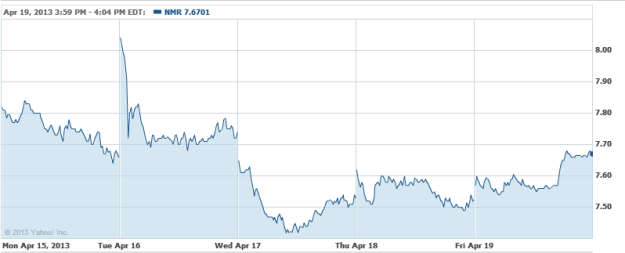 Deutsche Bank (NYSE:DB): Current price $39.25
The German superbank announces the naming of Daniela Weber-Rey as the chief governance officer and deputy head global compliance. Weber-Rey will join the firm on June 1, from the law firm Clifford Chance, and then will report to Stephan Leithner; in her new position, she will be responsible for the management of corporate governance globally, along with other advisory capacities.
Are these stocks a buy or sell? Let us help you decide. Check out our Stock Picker Newsletter now.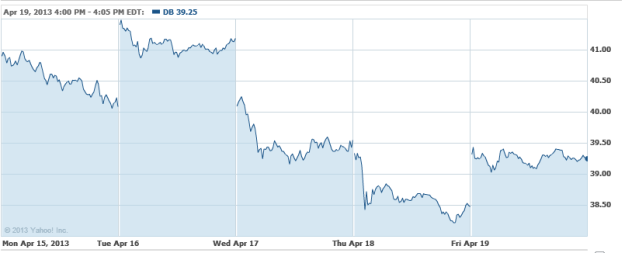 Barclays (NYSE: BCS): Current price $17.62
The firm announced Thursday that its current Chief Executive of Barclays CIB division Rich Ricci will resign his position as of May 1st, and will be replaced by the current chief of markets, Eric Bommensath, and the head of investment banking, Tom King, as co-chief executives of CIB. Peter Horrel, who is presently an executive in Barclay's Wealth and Investment Management division, will take on the interim chief executive role in that division, also as of May 1. The current chief executive and executive chairman of the WIM unit, Tom Kalaris, will retire from Barclays effective June 30.
Are these stocks a buy or sell? Let us help you decide. Check out our Stock Picker Newsletter now.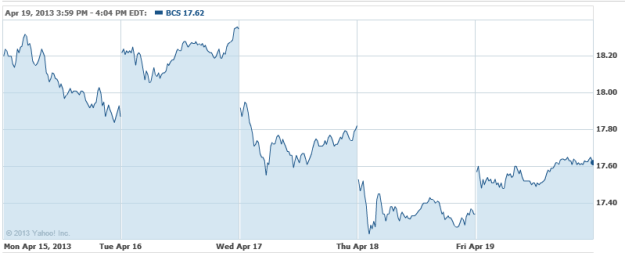 Investing Insights: Will Mastercard See All-Time Highs?