January 17: A Great Day for the S&P
News that home builders launched new construction projects in December at the fastest pace since the summer of 2008 and that the number of weekly unemployment benefit applications fell to a five-year low last week had a remarkable effect on the stock market on Thursday.
Stocks jumped upward, leading Standard and Poor's 500 stock index to close at a new five-year high. The exchange ended the day up 8.32 points, or 0.6 percent, at 1,480.94. The Dow Jones industrial average hit a five-year high as well, but the exchange gave up some of its gains and closed short of the high, up 0.6 percent at 13,596.02. The Nasdaq also gained 0.6 percent, and the composite closed up 18.46 points, at 3,136.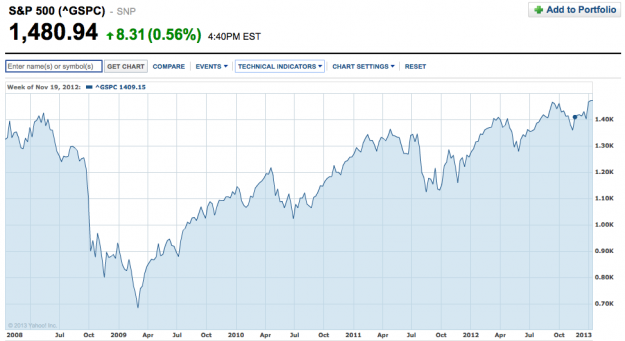 Start 2013 better than ever by saving time and making money with your Limited Time Offer for our highly-acclaimed Stock Picker Newsletter. Click here for our fresh Feature Stock Pick now!

The S&P is now 5.4 percent below its all-time high of 1,565.15 set in October 2007, and the Dow is slightly more than 4 percent away from topping its record of 14,164.53. Contributing to the near-record highs are recent earnings reports. As Bloomberg reported, approximately 70 percent of the 56 S&P 500 companies that have released quarterly results beat analysts' expectations.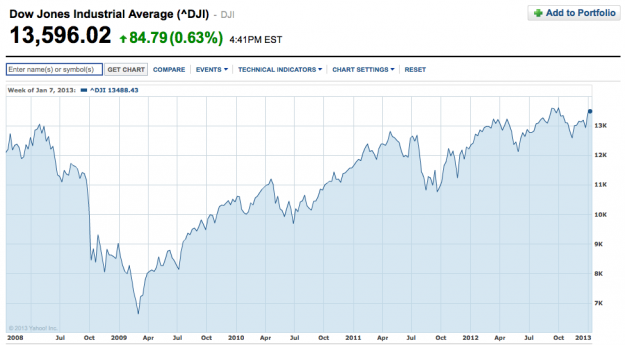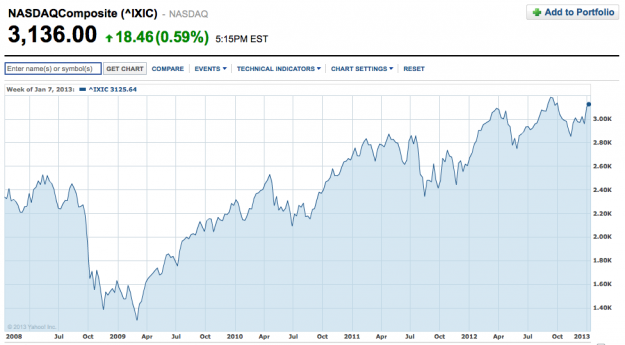 Miller Tabak chief economic strategist Andrew Wilkinson told USA Today that housing figures, in particular, had contributed to investor confidence that the "spreading recovery will overflow into broader consumption habits and further permeate the economy."
He added, "We think the economy is set for a great 2013 and the stock market looks set to break higher." While stocks did begin 2013 with a rally following a resolution of the fiscal cliff's tax hikes and spending cuts, the problem of the debt ceiling has yet to be resolved. Congress' deal did little to convince Fitch's head of sovereign ratings, David Riley, that the pressure on the country's rating was decreasing; he warned that another debt ceiling dispute, like the one in August 2011, would weaken confidence in Washington. There is now a "material risk" that United States will lose its triple-A rating.
Don't Miss: Here Are Thursday's 4 Hottest Earnings Reports.