JC Penney Partners With Shopkick and 2 More Heavily Traded Stocks to Follow
J. C. Penney & Co. (NYSE:JCP): Current price $6.77
On Friday, JC Penney announced that it has partnered with shopkick, the most widely used real-world shopping application that rewards shoppers for just walking into stores. Now, Penney's shoppers will be able to earn "kicks," shopkick's proprietary reward currency, together with special offers from the retailer, when visiting the retailer's almost 1,100 store locations spanning the United States. To celebrate the event, JCPenney will offer shopkick users additional kicks for a limited time when they visit a store.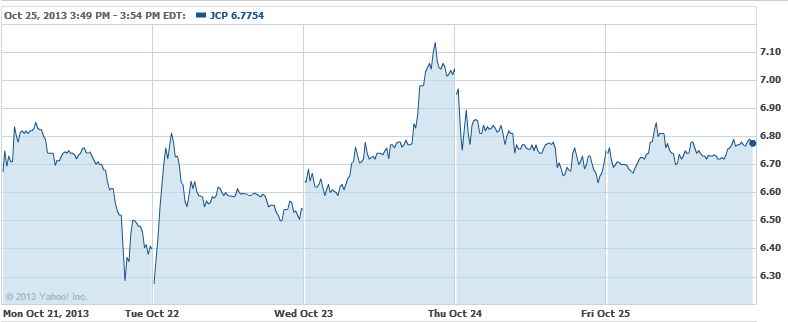 General Electric Co. (NYSE:GE): Current price $25.85
GE Healthcare announced Friday the FDA clearance of Vizamyl (Flutemetamol F18 injection), its radioactive diagnostic agent indicated for Positron Emission Tomography imaging of the brain to estimate beta amyloid neuritic plaque density in adult patients suffering with cognitive impairment who are being evaluated for Alzheimer's disease or other causes of cognitive decline. Vizamyl is an adjunct to other diagnostic evaluations, and is the only PET imaging tracer for detection of amyloid approved by FDA for visual interpretation of color images instead of black and white assessment, and will be commercially available next year.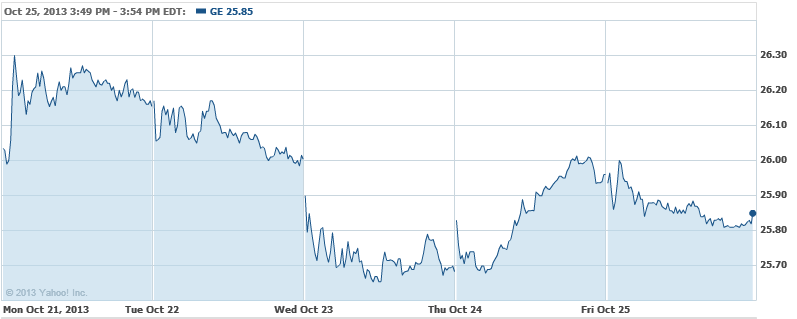 Microsoft Corp. (NASDAQ:MSFT): Current price $35.79
Microsoft's enterprise business is outperforming peers such as IBM and EMC. Late Thursday, the company surpassed Wall Street's projections for the third quarter on the strength of its software sales to corporations and other large organizations. Microsoft earned 62 cents per share, up by 17 percent year-over-year, and 8 cents higher than Wall Street was anticipating for its fiscal first quarter ended September 30. Sales jumped by 16 percent to $18.53 billion versus analyst forecasts of $17.79 billion.

Don't Miss: Fitch: J.C. Penney Turnaround Is Possible But Ambitious.