JCP Releases Preliminary Information and 2 Other Hot Stocks To Watch
J.C. Penney & Co. (NYSE:JCP): Current price $17.60
On Wednesday, the company released preliminary unaudited selected financial information for its fiscal first quarter ended May 4. The information is being provided linked with its previously announced proposed senior secured term loan financing transaction. For the first quarter, Penney expects total sales of around $2.635 billion, marking a decrease of roughly 16.4 percent from $3.152 billion year-over-year from 2012, and a comparable store sales drop of about 16.6 percent for the same period.  The press release said that the sales decline is partially due to construction activities related to the transformation of the home departments in 505 stores.
Fusion-io  (NYSE:FIO): Current price $13.24
Shares plunged as much as 25 percent in morning trading, of word of the resignation of Chief Executive David Flynn. The memory and data-storage products maker also reported that co-founder and Chief Marketing Officer Rick White is also exiting to join Flynn in "early stage investing activities." Fusion has chosen board member, and former Hewlett-Packard Co. (NYSE:HPQ) executive Shane Robison as its new CEO. Beyond that, the firm also reiterated its outlook for fourth-quarter sales of $110 million and full-year revenue of $435 million.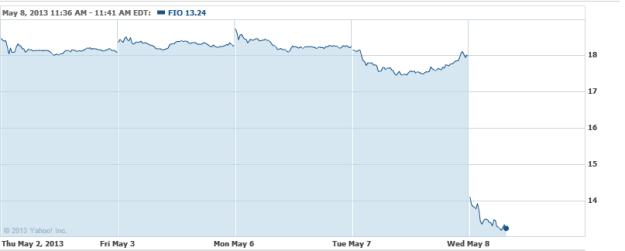 Williams Companies (NYSE:WMB): Current price $35.63
The companies have announced unaudited first-quarter 2013 net income attributable to Williams of $161 million, or 23 cents per share on a diluted basis, versus a net income of $423 million, or 70 cents per share year-over-year from 2012. The fall in first-quarter 2013 net income was primarily because of much lower natural gas liquid margins and related ethane rejection at Williams Partners, along with the absence of $207 million of income in first-quarter 2012 linked with the sale of certain of its former Venezuela operations, from which $144 million was posted within discontinued operations. However, these negative impacts from the first quarter were somewhat offset by higher olefins production margins at Williams Partner.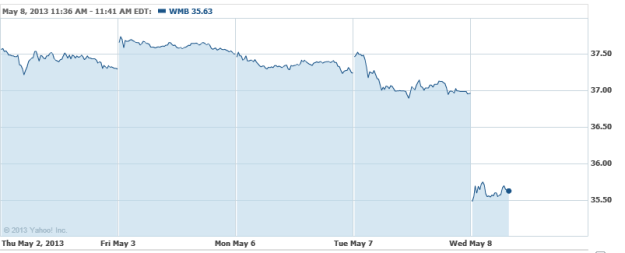 Investing Insights: Will Lowe's Continue To Surge Higher?