JCPenney Hits Lowest Price Since 1984 and 2 Other Hot Stocks to Watch
J.C. Penney & Co. (NYSE:JCP): Current price $9.00
Shares touched $8.59 on Monday, representing their lowest level since November 1984, over fears about the retailer's turnaround prospects and financial situation. Investors were jittery after Penney's said late Thursday that it is selling 84 million shares to raise cash with its underwriter authorized to sell an additional 12.6 million shares. The company also forecast that it would have had $1.3 billion cash left at the year end, versus its August projection of $1.5 billion without selling the shares. Its stock has fallen in 13 of the last 15 trading sessions, obliterating some two-fifths of its value.

Sirius XM Radio Inc. (NASDAQ:SIRI): Current price $3.87
On Monday, Delaware Chancery Court Judge Leo Strine ruled that Sirius investors may not go forward with a lawsuit claiming that its directors allowed the billionaire John Malone's Liberty Media Corp. to assume control of the satellite-radio provider without paying a premium or holding a shareholder vote on the transaction. Strine rejected claims that Sirius's board improperly permitted Liberty Media officials to conduct a takeover of the broadcaster in 2009 in return for a $530-million loan to let the then-struggling company avert bankruptcy.
The judge said that investors waited too long to challenge the directors decision to enter the loan agreement that allowed Malone an opportunity to acquire the company. The judge also said that Sirius shareholders may not "sit on the sidelines benefitting from the investment Liberty Media made in Sirius until after the statute of limitations expires and then belatedly seek to deprive Liberty Media of the benefits of the contract it received in exchange."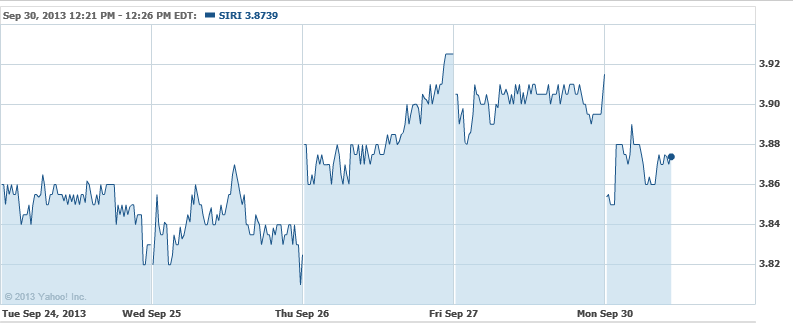 General Electric Co. (NYSE:GE): Current price $23.97
GE Healthcare Life Sciences announced Monday that its Radiopharmacy Services division has attained The Gold Seal of Approval by demonstrating compliance with The Joint Commission's national standards for healthcare quality and safety. GE Healthcare's national network of 31 Radiopharmacies are accredited as part of The Joint Commission's Home Care Accreditation program, and the GE division is now among a select group of accredited organizations providing pharmacy dispensing services.

Don't Miss: The Shale Boom Is Just Getting Started: Interview with Tyler Cowen.