JCPenney Sued By Shareholder Over $810 Million Stock Sale and 2 Other Hot Stocks to Watch
J.C. Penney & Co. (NYSE:JCP): Current price $8.86
On Tuesday, a J.C. Penney shareholder sued the historic retailer over its surprise move to issue over $810 million of stock to reinforce liquidity, causing a sharp drop in its share price. Alan Marcus said that J.C. Penney had publicly assured its investors in August and September that business was improving and that did not need to raise capital, and then subsequently agreed to sell 84 million common shares at $9.65 each.
Marcus further accused the company of knowing that it did not have sufficient liquidity for the holiday season without raising new cash, and that it hid this to avert raising worries among its vendors. The plaintiff also said that when the facts became public, investors "hammered" the share price, including on Friday, when it plummeted by 13.1 percent.

Rite Aid Corp. (NYSE:RAD): Current price $5.01
Green Equity Investors ceased to hold 5 percent or more of Rite Aid's outstanding common stock. Through filing this Amendment No. 7, Green Equity Investors indicates that it is not obligated to make further filings in regards to their transactions in the common stock.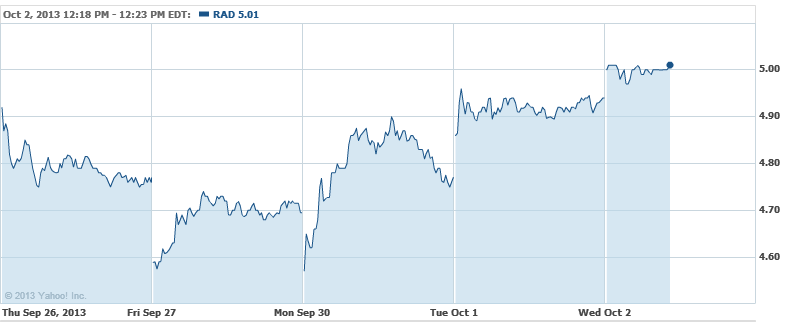 Molycorp Inc. (NYSE:MCP): Current price $7.35
On Wednesday, Molycorp said that its chloralkali plant at Mountain Pass, California, is now mechanically complete and that full-scale commissioning operations have begun. The chloralkali plant will recycle wastewater and produce hydrochloric acid and caustic soda utilized as part of the rare earth separations process. Molycorp officials said that once fully operational and optimized, the chloralkali plant should help the facility attain its cash production cost targets, which the firm believes will make it competitive with the lowest cost producers worldwide.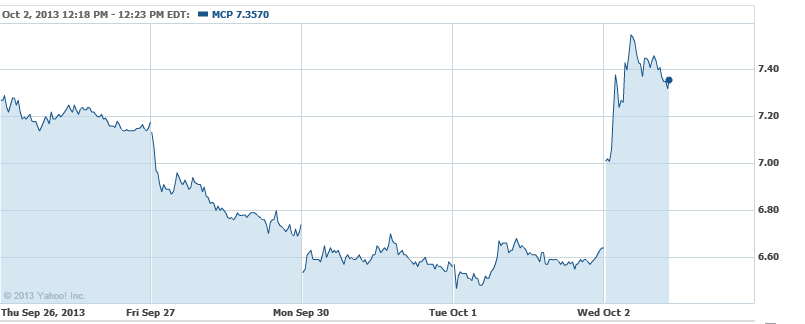 Investing Insights: Is J.C. Penney Stock Doomed?